DVD: Greta Garbo's Final Movie Better Than Its Reputation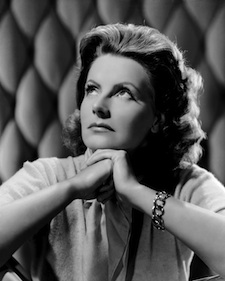 When one of the most popular actresses in Hollywood walks away from show business at the height of her career, it's natural for people to assume that her early retirement has to be the fault of her last movie. And so Two-Faced Woman (out on DVD for the first time from Warner Archive Collection) has always had the stigma of being the film that made Greta Garbo leave her career behind. But it's funnier than you may have heard.
Building off the success of her first comedy, the 1939 classic Ninotchka, MGM re-teamed her in 1941 with leading man Melvyn Douglas in a fizzy farce about marital discontent. Garbo stars as Karin, a ski instructor who falls in love with and marries magazine editor Douglas when the two get stuck in a snowdrift. But once they return to civilization, Douglas reverts to his workaholic self, dashing back to New York.
With the help of Douglas' secretary (Ruth Gordon, still in her dewy period) and some gowns by Adrian, Karin passes herself off as Katherine, Karin's worldly and sophisticated twin sister, to see if she can seduce her husband as another woman. (This plot gave the censors fits, which forced other directors to shoot new material to tamp down the racier elements -- George Cukor, bless him, refused to do so himself.)
Two-Faced Woman wound up being something of a cursed title for MGM -- after this film underperformed, there was a "Two-Faced Woman" number performed by Cyd Charisse (vocals by India Adams) that wound up getting cut from The Band Wagon. The song later surfaced in the grotesque camp classic Torch Song, lip-synched by Joan Crawford in blackface. (Torch Song ranked as one of the original Margulies/Rebello "Bad Movies We Love" in the O.G. Movieline.)
While Two-Faced Woman won't make anyone forget Ninotchka (or Cukor's The Philadelphia Story, released the previous year), there's plenty to enjoy here, from Constance Bennett's hilarious turn as a jilted playwright to the sight of Garbo dancing the "chica-choca." Maybe it's just the dismal nature of most modern rom-coms that make second-tier farces like Two-Faced Woman (and Hitchcock's much-maligned Mr. & Mrs. Smith) seem like triumphs, but this is a movie that's aged well enough to deserve an improvement in its reputation.
P.S. Garbo fans can rejoice -- Warner Archive is also offering the DVD debuts of Romance and Torrent this week as well.