Late Night Highlights: The Daily Show's John Oliver Reports on Arizona Shooting in Panda Pajamas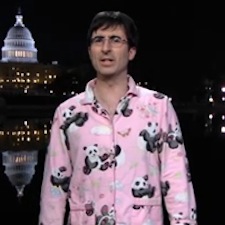 It felt a little strange to see Jon Stewart so uncharacteristically serious on Monday's edition of The Daily Show, but he was reporting on the horrible Arizona shooting tragedy...with the help of a correspondent in adult pajamas. Elsewhere in late night, Donald Glover showed off his Tracy Morgan impression, David Letterman let Snooki promote her new book, Winona Ryder discussed her irrational fear of the internet, and Jay Leno did his best snake.
5. Snooki's Top Ten
...and then David Letterman gave Jersey Shore star Snooki her own Late Show Top Ten to promote her new book.