James Cameron Sinks Universal's Battleship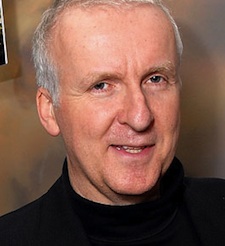 It seems James Cameron is saving his judge-y haymakers for bigger fish than just Piranha 3D. The King of the World told a German website that no film better embodies Hollywood's creative bankruptcy than Universal's two ka-billion dollar adaptation of Battleship. "We have a story crisis. Now they want to make the Battleship game into a film," said Cameron to Spiegel. "This is pure desperation." And how! Just wait until he finds out it co-stars Rihanna and Sports Illustrated swimsuit model.
Continued Cameron, via translation: "Everyone in Hollywood knows how important it is that a film is a brand before it hit theaters. If a brand has been around, Harry Potter for example, or Spider-Man, you are light years ahead. And there lies the problem. Because unfortunately these franchises are become more ridiculous. Battleship. This degrades the cinema."
Note to Universal: When the guy that made a movie about 9 foot tall aliens who use their tentacles to have sex with nature calls your movie ridiculous, you might have a problem.
· James Cameron Blasts Peter Berg's 'Battleship' Adaptation [Reelz Channel]