Justin Bieber and Twilight Ink: Your Weekend Horrible Tattoo Round-Up
I'm kind of curious as to what the senior citizens of 2050 are going to look like; tattoos are so ubiquitous now that a large swath of our future elderly will be explaining away their bad tribal bands or how their saggy gray parakeet was originally a screaming American eagle. But lord only knows how the two jokers after the jump will justify their terrible Justin Bieber and Twilight cast tattoos.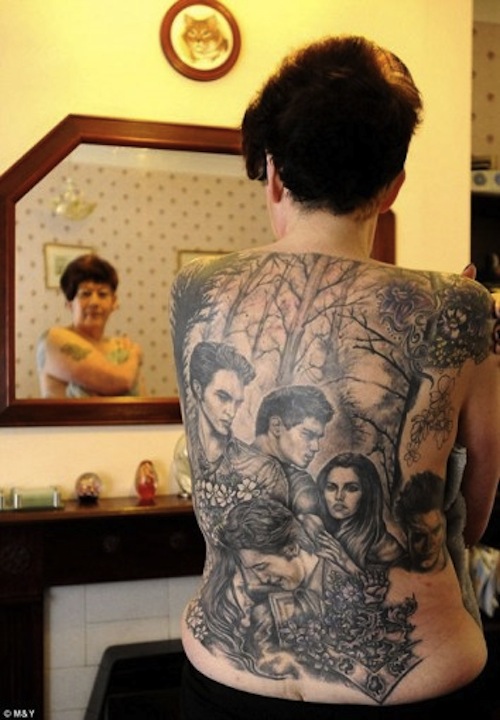 First, let's begin with the sparkly vamps. Cathy Ward is 49 and to celebrate her recent weight loss, she had her WHOLE BACK covered in the cast of Twilight. That's right, your Mom got half her torso covered in R-Pattz tats. Cathy has vowed to tone up her stomach even more so she can get Edward Cullen tattooed across it next. God help poor Taylor Lautner's face if Ms. Ward ever takes up Kegel exercises.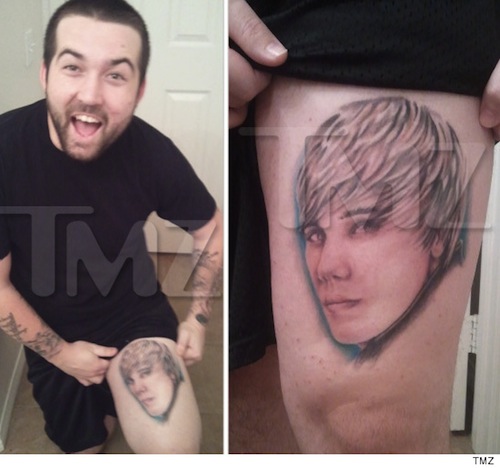 And then there's some anonymous dingbat found by TMZ who decided to tattoo Justin Bieber's face into his upper thigh. That's right, a portrait of a 16 year-old boy singer --I'm sure meant to be a laff-riot by this scruffy looking neckbeard hipster doofus -- is now permanently embedded on his body. How funny will that joke be in about seven or so years from now, buddy? Best of luck explaining to future friends and lovers that you're not a kid-toucher, you just thought it would be super-hilarious to get a Bieber tattoo. FOREVER.
[TMZ]