Guy Pearce on The King's Speech, Animal Kingdom and Christopher Nolan's Shy Years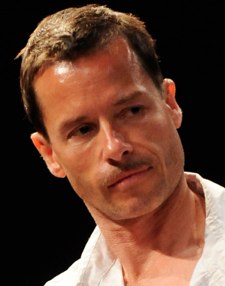 Guy Pearce wouldn't mind not being in an Oscar-winning film for a change. Not to say that he's not fully behind The King's Speech (or even the dark horse Animal Kingdom), but considering that his work in those films involve limited screen time -- not unlike his role in last year's Best Picture-winning The Hurt Locker -- "good-luck cameo" isn't a role Pearce necessarily wants to get used to.
In Speech, Pearce plays King Edward VIII, who gave up his throne for love in the form of two-time divorcée Wallis Simpson. Edward's abdication paves the way for his brother King George VI (Colin Firth) -- who, if you haven't heard by now, had a slight speech impediment -- to take over the House of Windsor. Movieline caught up with Pearce this week to discuss a shy director by the name of Christopher Nolan, why Animal Kingdom co-star Jacki Weaver should be a household name and how he somehow filmed the post-apocalyptic downer The Road at the very same time he filmed Adam Sandler's Bedtime Stories -- which, he admits, wasn't easy.
While working on The King's Speech, did the thought ever go through your head, You know, I have the most interesting character out of all of these people?
[Laughs] No, I didn't. I mean, I was certainly very aware of what a fascinating character I was getting to play. But I certainly didn't feel like he was necessarily the most interesting. I kind of came into the picture a little bit late, so I was probably scrambling to just make sure that I did a decent job at what I was doing. And also not be intimidated by the other great actors around me and thinking, Uh, what am I doing here?
What's interesting about Edward VIII is that, correct me if I'm wrong, but for such an interesting story, there's no definitive movie about his life. He's in Chariots of Fire and there's a film called A King's Story. Why do you think that is?
I'm not sure, to be honest. I, like most people, remember Edward Fox in... Actually, what was it called? It was called Edward and Mrs. Simpson, I think. A miniseries maybe?
Yes, that was a television miniseries.
That is almost the only thing I've ever seen. But I agree. What's fascinating is depending what country you go to, you get a very different perspective on him and his relationship with Wallis. Here in America, he's seen as a great romantic. "Look at what he gave up for love!" And yet in England, I think they see him as a real turncoat because he never wanted to be king. And even though he was in love with Wallis Simpson, I believe, from what I've read, that it was a really great but complex way of actually -- not using her; he was in love with her -- but he didn't want to be king. And if they were going to put forward the idea that he couldn't be king and be married to her, then he threw the ball back in their court and said, "Oh, well, if that's the decision that you're making for me, then OK." If you dig deep enough, you get to understand he's far more complex than just a man who is desperately in love.
To take it a step further about the differences on how Edward is perceived, there's strong evidence that he was also a Nazi sympathizer.
Absolutely! Exactly. And that, I think, was even more of a concern to the government than his relationship with a double divorcée. I think they were far more concerned that he was not the man to take England into war. I think when you look back at that famous photograph of Edward, Hitler and Wallis Simpson, the three of them shaking hands in 1937, it's the most horrific photograph you could ever see.
Do you think The King's Speech should have made reference to that?
Well, I mean there are references to it in the film.
There are, but it's played more ambivalent than as dark as it could have been.
Absolutely. The thing is it's not about that; it's really not about that. It was actually an interesting quest for [director] Tom [Hooper] and the writers and the producers to kind of go, "Well, look, there is a massive story here. How much of this story do we delve into?" We don't want to turn this from The King's Speech into The King's Avocation. It is touched upon. In a way it's slightly tricky to play someone who is of such note who is on screen for such a small amount of time.
As we march deeper into awards season, do you feel more invested in The King's Speech or Animal Kingdom?
Oh, well, that's a difficult question. I mean, look, it's always very difficult for me to... I never really know how my difference in feelings are in relation to films that I've made at home in Australia and films that I've made internationally. I have such a strong emotional connection to films that I make at home. They resonate for me personally on a deeper level because I grew up there; something about the language and the culture means more to me. But, having said that, it's not to say that The King's Speech means any less to me, because I think The King's Speech is a really delightfully extraordinary film.
Are you happy with the exposure that Animal Kingdom is getting internationally?
Oh, look, absolutely. And I think particularly for Ben and Jacki's performances, they're just remarkable. I've been making jokes with people recently because some have been saying, "Wow, you're potentially going to be in this year's Oscar winner as well." Between The Road, The Hurt Locker, The King's Speech and Animal Kingdom, I think I've clocked up about 15 minutes on screen [laughs].
Fifteen minutes total or not, you are going to start being cast in films as a good-luck charm.
Well, I have to be careful, too, that my career doesn't slowly just turn into "cameo man." [Laughs] But, look, I think Animal Kingdom is a beautifully crafted film and so emotional. I just think David [Michôd] has done such a wonderful job with it.
Movieline has been on a tear with the Oscar campaign for Jacki Weaver. Is it fun for you to see her get so much acclaim internationally?
The interesting thing about Jacki, really, is for us as Australians, I've been watching her since I was a kid. I've always known of her. It's a bit like when Paul Hogan appeared here in Crocodile Dundee. We, as Australians, went, "Paul! Yeah, I knew him since I was a 5 year old!" So, look, I think that it's past due. She's an extraordinary actress and, really, something came together so beautifully with this film and her performance. Because there's something very mundane and day-to-day about the style of the film. And she just brings an electric performance. I mean, I've always known that she's great, but I didn't know she was that great. I just feel honored to have done that one supermarket scene with her, you know?
Pages: 1 2