Carson Kressley on Working with Oprah, Stardom and Shows Like What Not to Wear: 'It's Terribly Un-Positive.'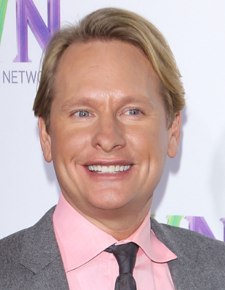 Carson Kressley has been a television fixture for close to a decade, moving from Bravo's Queer Eye for the Straight Guy to Oscar red carpets to Lifetime's How to Look Good Naked in an effortless evolution. Though he co-hosted the second season of ABC's True Beauty last year, his talents seem especially accustomed to his newest role, that of co-judge (alongside Nancy O'Dell) on the Oprah Winfrey Network's Your OWN Show: Oprah's Search for the Next TV Star. We caught up with Kressley at yesterday's TCA panels in Pasadena to discuss Oprah, starmaking, and why shows like What Not to Wear and our quasi-beloved The A-List: New York could be hazardous.
You seem like you'd know what makes a star. Do you think this job suits your talents well?
I thought, "This is perfect for me." I came out of nowhere and got my own show and I know what it takes to make it work. It's not about being bitchy and saying, "You can't do this." What I hope to bring to the table is really positive and constructive criticism and say, "You can do this." It worked for me. We have all these amazing guest stars, like Dr. Phil, Oprah herself, and Gayle King: Listen to them and you can be successful too.
Do you have specific ideas about who should be on TV? Has that changed since you started your career?
I try not to think about it. What makes a star is being yourself, if you're meant to be a star. People are always like, "When did you think you were a star?" I say I always kind of felt famous in my head. I was always great at entertaining people and feeling special. I thought everyone felt like that. Then I had a perfect opportunity with Queer Eye for the Straight Guy. It was my National Velvet, like it was for Liz Taylor. It was the perfect thing for me. I seized the moment and worked really hard. I was -- I don't want to say "lucky" because that's too haphazard -- but I've been incredibly blessed always, to be at the right place and the right time, and to do the job, and to say "yes" to every opportunity. I think that's really important too.
Is it easy to criticize prospective TV stars without comparing them to yourself?
I think that's the number one rule in life -- don't compare yourself to other people. Compare yourself to yourself and say, "How can I be better?" How can I be the real me? Oprah kind of says it all the time: "When you're yourself, you're at your best." That's probably what I told those contestants more often than not.
The cross-section of contestants on Your OWN Show is diverse, but I'm worried we're not going to see much beyond their archetypes: the lady chefs, the business planners, the musical-loving guy. How will they surprise us?
I think that's what you think, but when your watch the show, everyone is surprising. People are much deeper than stereotypes. That's the first place our minds go. Then you get to know them and you hear their stories, and you say, "I'd have never guessed." That's something that people watching the show will find very quickly.
Who's been the "best" TV personality you've worked with?
Well, Oprah. Not just because she's my boss and the network has her name in it, but she's the person who most inspires me on television. There are tremendously talented actors and actresses and hosts and everyone has a niche, but she seems to have settled into -- she's just so inspirational in so many ways. You want to be like her. You want to be your best. I felt the same way with Ralph Lauren in the fashion world. You work with a leader and a visionary and someone who's inspirational. I'm drawn to that type of personality because they bring out the best in all of us.
What's it like when a personality of Oprah's caliber takes a shine to you?
You're flattered, then you try not to get a big head about it. You keep thinking, "Keep being who you are," since that's what attracted them to you in the first place. She's incredibly powerful, wise, and inspirational, but she's also a real person just like you and me. I try not to overemphasize it.
Do you ever have to remind yourself to come back down to Earth?
No, not really. All of this kind of happened to me kind of late in life, when I was 33. I know how lucky I am and how special all of these experiences are. When I get to work with Oprah or do a red carpet event or talk to reporters, I feel so lucky that I remember to keep it in check. "You're very lucky to have it. Cherish it. You might not always have it."
This is a sort of obvious question...
You want my phone number, don't you?
Close: Queer Eye's been off the air awhile now. Do we need a new version of it? Do you believe a proper successor to Queer Eye is coming, or do we already have it?
Oh, it's coming. It's called Carsonation. It comes out on the Oprah Winfrey Network in May. It's a whole lot of me visiting small town America and being gay and zany and goofy and me. It's about helping people living a better life or at least look and feel better about themselves. The cool thing is we're doing it all across the country. It's not taking people to celebrity stylists and going to Neiman Marcus. It's using what's available in small-town America, what most people have at their fingertips, and saying, "You can live a great life. Let me show you how. Believe in yourself." And hopefully it's funny!
You say positivity is important in a makeover series -- would you say a show like What Not to Wear doesn't represent that?
No, I think it's terribly un-positive. I'm not better than anybody else; I just have some experience and some training. My method of helping people is not saying, "Wow, you look terrible." My method of helping someone is saying, "Wow, you look amazing. Let me help you look even better." I think tearing someone down is an awful thing to do. It has a lasting impression on people. I know growing up gay and being picked on, being bullied -- I know what that feels like and I don't ever want to do that to anyone else.
Are there others gay-centric shows on TV that you think aren't positive representations?
I think shows like The A-List are absolutely terrible for who [gay people] are. I've been in that hot seat where people said about Queer Eye, "We're not all flag-waving, skipping, lisping pansies." But maybe I am a flag-waving, skipping, lisping pansy. I'm going to be me. I'm being me on TV, so back off. But I think shows like The A-List, it's about bitchiness and not being nice. It doesn't do well for anybody, including the people on those shows. But I mean, Ellen's fantastic. She's herself. Oh, and Neil Patrick Harris? He's fantastic. People in our community who excel do so because they're their most authentic selves. That's when they start to shine.