And That's When Lea Michele Almost Made True Grit's Hailee Steinfeld Cry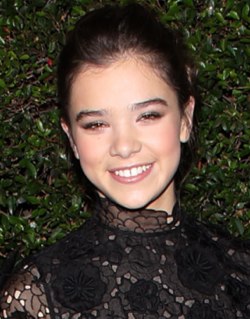 We're obviously on Team Jacki around these parts, but that doesn't mean we don't have a tremendous soft spot for Hailee Steinfeld. The True Grit teen star has displayed poise, humor and blingatude during the initial stages of awards season, and now -- like Mattie Ross -- she's even showing herself to be a master at revenge. Just take a peek at how she gets back at Glee star Lea Michele for making her "practically" cry.
Oh, sorry, buried the lede there: Lea Michele pretty much made Hailee Steinfeld cry.
When I was auditioning for True Grit, I was on the Paramount lot. I was wearing clothes from the 1800s that were big and uncomfortable. Glee also films on the lot, and I love the show," Steinfeld told J-14 magazine. "I saw Lea Michele just walking to her trailer, and I was like, 'That's the girl from Glee. I've got to go ask for her autograph!' So I walked up to her and asked for her autograph, but she walked by and a guy came and said, 'Sorry, now's not a good time!'"
The young actress, who stars alongside Matt Damon and Jeff Bridges in Grit, was so heartbroken by the brush off that she left in tears. "I had to walk all the way back to the car wearing what I was wearing. I was practically crying on the way home," Steinfeld said. "I was so sad! But she's beautiful, and she has an amazing voice."
Let's count the ways this is awesome: First of all, Steinfeld initially referred to Michele as "that girl," which is the supreme way to take a diva down a notch. Second, though, is this: "But she's beautiful, and she has an amazing voice." It seems that even at the young age of 14, Hailee still knows her way around a well-placed "but." Outstanding. Tune in next week to see if this bit of public payback gets Hailee an even higher position on the Oscar Index. Fingers crossed!
· Lea Michele Made Young 'True Grit' Star Cry With Blow Off [PopEater]