Does Your Favorite NFL Playoff Team Have a Corresponding Best Picture Candidate?
The NFL postseason and the Academy Awards go together like pigeons and Bisquick. Which is to say, they don't go together! If this refrain sounds familiar, that's probably because you fondly remember the eve of the MLB postseason, when your crack(ed) staff at Movieline matched up each playoff team with a corresponding Oscar contender. Well, that format is back and better than ever as the NFL playoffs begin! Which Super Bowl hopeful is this year's Inception? Click ahead for the breakdown.
NFC
· Philadelphia Eages (NFC East winner)
BREAKDOWN: The most controversial team in the NFL, if only because Michael Vick is their quarterback. Blessed with crazy amounts of speed on both sides of the football, a cocky attitude and Vick's MVP performance, they're a Super Bowl dark horse.
OSCAR CONTENDER: Black Swan
· Chicago Bears (NFC North winner)
BREAKDOWN: A problematic quarterback (Jay Cutler) and an unorthodox coach (offensive coordinator Mike Martz) mean that the Bears are a wild card in the post-season. They have the pedigree, but can Martz push Cutler over the hump?
OSCAR CONTENDER: The King's Speech
· Atlanta Falcons (NFC South winner)
BREAKDOWN: Despite possessing the best record in the NFC, the Falcons are still underestimated. The definition of "local boys make good" (7-1 in Atlanta), they'll go as far as the right arm of Boston College alum Matt "MattyIce" Ryan will take them.
OSCAR CONTENDER: The Fighter
· Seattle Seahawks (NFC West winner)
BREAKDOWN: Please. The Seahawks finished the 2010 season with a losing record, yet because every other team in the NFC West was even more terrible, they won the division by default. Seattle has zero chance of making it out of round one.
OSCAR CONTENDER: Grown Ups
· New Orleans Saints (NFC West)
BREAKDOWN: The reigning Super Bowl champions are loaded with seasoned pros who won just last year. Thanks to the beloved Drew Brees, their offense is capable of making a big play when it counts, but can they elevate their running game in time to stay competitive in the interim?
OSCAR CONTENDER: True Grit
· Green Bay Packers (NFC Wild Card)
BREAKDOWN: There was a time when the Packers seemed like Super Bowl contenders, but then some injuries and close losses took them out of serious contention. There's still the chance they can make a run to Dallas, but they'll need some other teams to stumble.
OSCAR CONTENDER: Shutter Island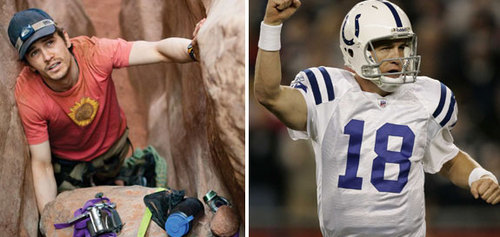 AFC
· New England Patriots (AFC East winner)
BREAKDOWN: Perennial favorite New England grabbed the NFL's best record -- which is a little like sweeping the critics awards -- and is led by a coach that can best be described as an a*shole.
OSCAR CONTENDER: The Social Network
· Pittsburgh Steelers (AFC North winner)
BREAKDOWN: Funny thing about the Steelers: Despite being tied for the AFC's second-best record, they feel like an afterthought. Pittsburgh is well-respected -- and has been to the post-season many, many times before -- but this doesn't feel like their year.
OSCAR CONTENDER: Toy Story 3
· Indianapolis Colts (AFC South winner)
BREAKDOWN: The definition of one-man show. The Colts are Peyton Manning; Peyton Manning is the Colts. Without his right arm, there is no chance this team even makes the playoffs.
OSCAR CONTENDER: 127 Hours
· Kansas City Chiefs (AFC West winner)
BREAKDOWN: Upstart Kansas City came out of nowhere to win the AFC West over the previously favored San Diego Chargers. Spurred on by a two-headed monster at running back (Jamaal Charles and Thomas Jones), this is a fun team to watch, but one that won't get much more than a pat on the back.
OSCAR CONTENDER: The Kids Are All Right
· Baltimore Raves (AFC Wild Card)
BREAKDOWN: Like the Steelers, no one really takes the Ravens that seriously as a contender, even though they had 12 wins during the regular season. Baltimore is a solid team all-around, but that will only take them so far.
OSCAR CONTENDER: The Town
· New York Jets (AFC Wild Card)
BREAKDOWN: Thanks to Rex Ryan -- and their arrogant fan base -- the Jets might think they're the best team in the NFL. But despite a strong defense and some great individual performances, don't be shocked to see New York fall far short of their own lofty expectations.
OSCAR CONTENDER: Inception