Robert Pattinson Joins Cosmopolis, Alters the Course of American Literature?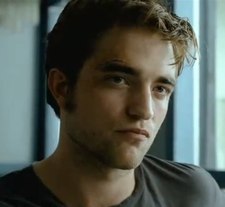 I won't take up more of your time explaining why Cosmopolis is maybe the fifth or sixth most optimal Don DeLillo novel for a screen adaptation by David Cronenberg, but two new developments surrounding the looonnng-gestating project most definitely bear noting. Needless to say, Robert Pattinson's casting as paranoiac, Manhattan-crossing, billionaire-in-the-unmaking Eric Packer is pretty important. But are we ready for the consequences?
To wit, are we ready for the collision of a voracious Twilight saga/Stephenie Meyer readership and the dense, oblique, conspiratorial post-9/11 ravings of arguably America's greatest living novelist? For the record, I'm not saying one can't handle the other -- they're all just books in the end, and Meyer's key demo is nearing college age -- but when the flawed, dated Cosmopolis now flies off the shelf, leaving Twihards to possibly settle for, say, The Body Artist, Libra, Mao II or (please God please God please) White Noise as some kind of clued-in tonal surrogate, are we looking at a new generation of DeLillo readers? To say nothing of new Cronenberg viewers? I don't think the reigning bards of spiritual disaffection and body horror could possibly have had better news from Hollywood today. Relevancy for all!
All of which hinges on whether or not Cronenberg actually makes this thing, which the filmmaker's had in development since at least 2007. Colin Farrell reportedly had to drop out so Pattinson could pick up the part of Packer, a young asset manager whose attempt to cross Manhattan in his opulent limousine (to get a haircut of all things; don't tell the Twihards) is met with financial ruin, sexual crisis, assassination threats, riots, and breaches in his soundproofed vehicle walls. Marion Cotillard and Paul Giamatti have been linked to Cosmopolis in the past as well, but they're not officially confirmed to join Pattinson in the project. We'll see. For now, this happened. There's probably a DeLillo novel in the whole scenario itself.
· Robert Pattinson To Star In David Cronenberg's Cosmopolis [Deadline]