Oscar Index: Does America Want True Grit to Win Best Picture?
Welcome back to Movieline's Oscar Index, your weekly, bulletproof guide to the ever-tightening contention for next month's Academy Awards. And as with last week's awesome "Steak Eaters" theory, the latest edition is dominated by yet another perennially vexing dilemma: Can Hollywood and its ticketbuying public agree once more on Best Picture? Let us investigate...
[Click the graphs for larger images]
The Leading 10:
1. The Social Network
2. The King's Speech
3. True Grit
4. The Fighter
5. Inception
6. Black Swan
7. The Kids Are All Right
8. The Town
9. 127 Hours
10. Toy Story 3
Outsiders: Blue Valentine; Winter's Bone; Rabbit Hole; Shutter Island
Notes: True Grit was by far the biggest beneficiary of a busy week -- both among Oscar watchers and filmgoers alike. The latter have driven the fine Coen brothers' Western to a gross of nearly $90 million to date, a superb holiday run that prompted a flurry of pundits to wonder how Academy voters would react. Hint: It will be positive. David Poland argued that Grit had "muscled its way into the frontrunner slot to win Best Picture" (Jeffrey Wells wasn't impressed), soon followed by complementary think pieces from the New York Times and Los Angeles Times. Meanwhile the Producers Guild and Writers Guild nominations all but assured the film of top-shelf Oscar nods, and the Academy's actors branch was said to be mulling over Hailee Steinfeld as Best Actress as opposed to Best Supporting Actress, where Paramount has had her all along despite her presence in virtually every scene. (More on this below.)
It's all one collective profile boost at the perfect hour of the race -- when mainstream competition like The Town plows ahead just happy to be nominated (which, if its own PGA/WGA notice is any indication, it will be -- nice knowing you, Winter's Bone), nobody is talking about The King's Speech, and the most The Social Network can muster is a second-tier critics award and a boring, aseptic new Web site that reveals little about the season's most overexposed awards horse. Older voters and Steak Eaters continue to influence the race, and let's face it: Is Inception compared to a "religious experience" by scholars? No. And is there any such thing as a Zuckerbergpalooza where hundreds of Facebook enthusiasts gather in Palo Alto to recite in unison, "If you were the inventors of Facebook, you would have invented Facebook"? Hell no. True Grit has that market cornered:
Anyway, sure: Three weeks remain until Mo'Nique (!) announces nominations, but is anyone really likely to say a lot more can change in three weeks? All I can really foresee is Fox Searchlight making one more push for 127 Hours just to be on the safe side against an aggressive, well-received comer like Blue Valentine. But really, give or take that type of wild-card variation, this looks like your Best Picture class of 2011.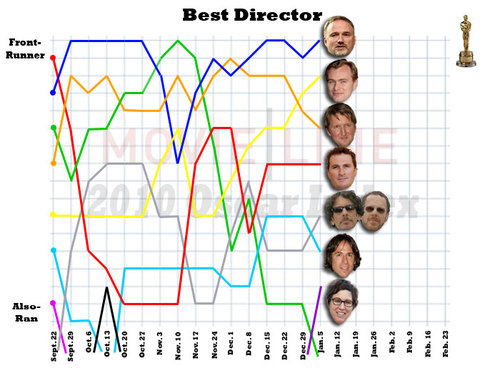 The Leading 5:
1. David Fincher, The Social Network
2. Christopher Nolan, Inception
3. Tom Hooper, The King's Speech
4. Darren Aronofsky, Black Swan
5. Joel and Ethan Coen, True Grit
Outsiders: David O. Russell, The Fighter; Lisa Cholodenko, The Kids Are All Right; Danny Boyle, 127 Hours; Mike Leigh, Another Year
Notes: Listen, this category is as flummoxing as it's ever been. I've never pretended to have a good bead on whether or not Tom Hooper could keep his hold on the upper rungs of the frontrunner ladder, or if Danny Boyle could (or even wanted to) sustain all that early momentum of his. The bottom line this week is that if you got a WGA nomination, then you got a bump. Fincher may remain on top overall, and Aaron Sorkin may still lead the Adapted Screenplay category, but the overall trend of recognition appears to be shifting toward writer-directors. We have a very real shot at three among the final five -- Nolan, the Coens and Cholodenko -- a relatively rare phenomenon seen only twice in the last decade and most recently in 2007, when the Coens, Paul Thomas Anderson and Tony Gilroy made the cut. Can Cholodenko pull it off? Like I said, I don't pretend to know, but all things considered, I think you kind of have to like her chances.