Late Night Highlights: David Letterman Throws Dead Birds At His Audience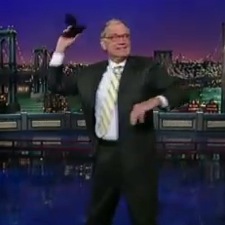 The Ed Sullivan Theater was not safe from apocalyptic birds during last night's Late Show -- just ask anyone sitting within throwing distance of David Letterman. Elsewhere, Craig Ferguson starred in an Andy Griffith rap video about Ford Explorers, Chelsea Handler talked to a Social Network star and Kevin Spacey treated Jimmy Fallon to his Johnny Carson impression.
4. Johnny Carson Rises From the Dead
Last night, Kevin Spacey summoned the spirit of Johnny Carson and subjected Late Night host Jimmy Fallon to a quick interview.