Roger Ebert Reveals Co-Hosts and Other Details for Re-Launch of At the Movies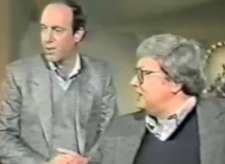 Roger Ebert will be launching a revamped version of his television show At the Movies on January 21st and he has just revealed that AP critic Christy Lemire and Mubi.com contributor Ignatiy Vishnevetsky will co-host the show. He also revealed a number of other contributors and special segments that will be featured. Lemire isn't so much of a surprise, as she's a well-known, veteran critic for AP who has also appeared on Good Morning America, The Charlie Rose Show and even At the Movies. But who is this Vishnevetsky guy?
Vishnevetsky actually seems like a pretty exciting pick. For those who don't know, Mubi.com (formerly known as The Auteurs) is a streaming site for foreign and arthouse film that features criticism, essays and a social networking component. If there are any gaps in your knowledge of Agnès Varda's filmography, check out Mubi, which seems to have almost all of her films available now.
Ignatiy Vishnevetsky himself is a 24-year-old wonder kid of sorts. Besides contributing to Mubi, he contributes to the Chicago Reader (where he's proven pretty open-minded by giving props to both Faster and Carancho) and co-founded the indispensible resource for Chicago alternative film, Cine-File.info. Before getting into film he uh, worked as a translator for Russia's premier literary journal. Yeesh. So yes, as far as new blood in film criticism goes, he seems like a promising choice.
Ebert also revealed that the show will feature contributions from The Hitlist's Kim Morgan, The Popcorn Reel's Omar Moore, Mirrorfilm's Katrina Richardson, CBS news analyst Jeff Greenfield, Beliefnet's Nell Minow and Movie City News' David Poland. The show will also include a new segment about video-on-demand called "Hot N Now," which was naturally named after a burger joint in rural Indiana.
·Ebert Presents At the Movies [Roger Ebert's Journal]