Remembering Bill Erwin, the 'Old Man' from Seinfeld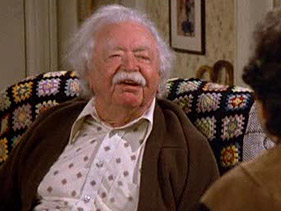 Admittedly, when I'm flipping through channels and come across the episode of Seinfeld titled "The Old Man," I never even considered the possibility that the old man in question in this episode, played by Bill Erwin, was still alive. This episode aired in 1993! And Erwin wasn't someone who just looked old like Wilford Brimley (fun fact: This year, Tom Cruise, the guy filming a new Mission: Impossible movie, will be as old as Brimley was when he filmed Cocoon) -- Erwin was almost 80 when he filmed his role. Sadly, Erwin passed away this past week at the age of 96, but he leaves a treasure trove of popular culture appearances behind.
You remember the episode: Jerry and Elaine agree to participate in a program where they spend time with senior citizens. Jerry's assignment, Sid (Erwin), has a large record collection that Kramer and Newman try to pawn off to a character played by Tobin Bell (who, of course, would later go on to head up the Saw franchise). Erwin would earn an Emmy nomination for this appearance.
Why devote a post to a guy who was a character actor who not many people know his actual name? Because the guy lived to almost 100 and appeared in pretty much every television show you ever watched growing up, that's why. Look at this guy's resume: The Golden Girls, Full House, Knots Landing, Quantum Leap, Growing Pains, Just the Ten of Us (playing a different character than he did on Growing Pains, even though Just the Ten of Us was a Growing Pains spin-off), Uncle Buck (the television series, alas), Star Trek: The Next Generation, Moonlighting, Who's the Boss, Punky Brewster, Silver Spoons, Falcon Crest, The Jeffersons, The Dukes of Hazzard and Hart to Hart. He even appeared on E/R with George Clooney -- not the NBC drama, but the original 1984 comedy that also had Clooney (and Jason Alexander) as a cast member.
Not only that, Erwin also played the reverend who married off Jan and Marcia Brady in The Brady Girls Get Married. If you go back far enough, Erwin appeared in episodes of Wagon Train, Leave it to Beaver and Bat Masterson. I'm going to go ahead and assume that Erwin is the only actor to ever appear on both Wagon Train and an episode of The King of Queens.
Bill Erwin wasn't just an actor who appeared on a lot of television shows, he was an actor who symbolizes what television is, from the very beginning. The chances are that most of the appearance that he made above were forgotten as quickly as they aired, but Erwin obviously loved what he did even though he never became a household name. Sometimes it's nice to take a step back and look at a career like Erwin's and say, "Job well done."