Dead Birds, Dead Fish: Something Totally Crazy is Happening in Arkansas Right Now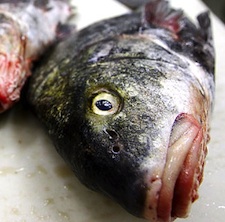 It might be a good time to stock up on canned goods, friends. Hours before the ball dropped on New Year's Eve, residents of Beebe, Arkansas were shocked when more than 2,000 dead birds fell from the sky. "It was horrible," said Beebe resident Melissa Weatherly, obviously. "You could not even get down the road without running over hundreds. It was that bad." Though maybe not as bad as finding 100,000 dead fish washed ashore just 125 miles away.
Along a 20 mile stretch of the Arkansas river near Ozark, state officials are trying to determine what killed 100,000 drum fish since Thursday. "The fish kill only affected one species of fish," Arkansas Game and Fish Commission spokesman Keith Stephens said. "If it was from a pollutant, it would have affected all of the fish, not just drum fish."
Um. Judging from what movies and television have taught us, whatever caused these mass deaths is bad bad. Either it means the devil is coming, the world is ending, or the government is doing a bunch of ridiculous experiments. Maybe some combination of all three! At the very least, it probably means the "f*cking trees" are mere moments from turning against us. I, for one, welcome our new overlords, whether they be of tree or demon variety. In the meantime, expect the rain of frogs to hit Arkansas sometime on Thursday.
· More Than 1000 Dead Birds Fall From Sky in Arkansas [Huffington Post]
· 100,000 drum fish die in Arkansas River, more than 100 miles from site of bizarre blackbird deaths [NYDN]