Castle's Jon Huertas on A**hole Directors and His Own Glee Fantasy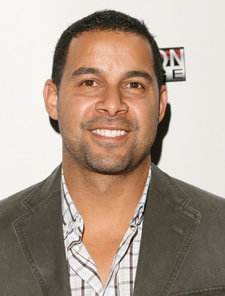 Unlike most network TV actors who pay their entertainment dues in commercial work and soap roles, Castle's Jon Huertas cut his teeth in the Air Force. After serving in the military (while studying musical theater) for eight years, the native New Yorker traded assault rifles for auditions and moved to Hollywood, where he used his discipline to build a career acting, directing and recording. Following a breakout performance in HBO's critically acclaimed miniseries Generation Kill, the actor now stars as Detective Javier Esposito on ABC's comedy-drama Castle. Shortly before the holidays, Huertas phoned Movieline to talk about Castle's strict No A**holes policy on set, share his own Glee fantasy and explain why a Castle-Beckett hook-up would be a good thing for the ABC series.
Hi Jon! What do you have planned for the holidays?
I'm going to the Dominican Republic and during the hiatus, I'll be working on a music project -- a kind of urban pop album. I'm also working on some music for ABC to possibly use for Castle. They asked me to do something for the show. I'm also building a recording studio. I'm making moves.
You said that ABC asked you to write something for Castle. How does that work? Did they assign you an episode or a scene to score?
No, it doesn't really work like that. Basically, they want a song that would be used as more of a promotional tool for the show I think than something that we could place in an episode. We'll see. They are giving me free reign to write and produce the song and see if it works with what their original idea was.
Do you still consider acting your first priority above music?
Absolutely. I'll always be an actor first. I grew up doing musical theater so music and acting, to me, have always gone hand in hand. I'm going to be an actor first because it's my career but music will always be a part of me.
It seems like the holy grail for any actor with musical ability these days is to guest star on Glee. Do you have any strategy for getting on the show?
Yeah I do! I want to be on that show badly but the production schedule is basically the same as ours so I don't know if I'd be able to get away from Castle to do that. I've definitely asked my representation to please get me a guest spot on Glee though.
Have you put any thought into what character you'd like to play?
I think I'd like to play the young substitute teacher who comes in and maybe one of the girls has a crush on him. I would then have to let her down with a song. I know that the actresses who play these teenagers are actually grown women and adults so I wouldn't be opposed to filming some kind of fantasy or dream sequence with the teacher either. [Laughs]
Is there one cast member you have in mind?
No. All of those girls are hot!
I find it so fascinating that you studied musical theater for eight years, joined the Air Force and then came back to acting. How did that happen?
I didn't grow up with a lot of money and means to go to a great college. I wasn't a scholar so I didn't get a full ride anywhere. I did go to college for a year before I went into the military and got -- sometimes I say that I got kicked out but I didn't get kicked out. I was asked to not come back the fall semester.
Because of your grades?
No, it was a disciplinary rule that I broke but yeah, they let me finish the spring semester. At that point though, I didn't know how I was going to finish school. The military was offering to pay for 25 percent of any state college university so I signed up for four years in the military and finished my three years of college. I was actually going to study musical theater in the military because you can study whatever you want as long as you find time to go to school. It ended up taking eight years to finish college because I got deployed and went overseas. I will say that if I hadn't joined the military, I don't think I would have the career I have now. It gave me the discipline and the initiative I needed to get out here. It was one of the best experiences I've ever had in my life.
Did you end up majoring in musical theater while you were there?
Yeah, there's a lot of leeway in the military to do extracurricular things. And guys in the military would come out to watch me dance around the stage in tights. Then the next day I'd be holding an assault rifle. So it's pretty crazy to balance those two worlds but I majored in musical theater and then as soon as I got out, I moved to Hollywood.
Pages: 1 2