How Do Burlesque and The Tourist Stack Up Against the Golden Globes' Worst Musical/Comedy Nominees?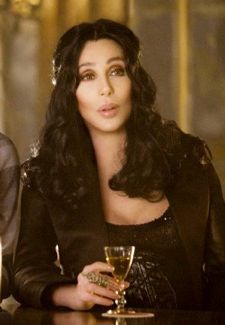 The Hollywood Foreign Press fell down the stairs this morning and accidentally nominated Burlesque and The Tourist for Best Picture on its way down. Sad, but this is the way with the Golden Globes: Weird stuff gets honored, you hit yourself with a coconut, and you laugh about it. But where do Burlesque and The Tourist rank among the worst Golden Globe "Best Motion Picture -- Musical or Comedy" nominees ever? Join us for the hideous retrospective.
Here are Movieline's unscientific rankings for the worst Best Picture nominees. We could've included forgettable fare like the 1969 winner The Secret of Santa Vittoria, but it's not quite infuriating enough to qualify here, you know? (Plus, Anna Magnani is a goddess.) We're sticking to memorably nonsensical nominees.
10. Big Fish
9. Funny Lady
8. The Producers (2005)
7. Shirley Valentine
6. Love Story
5. A Chorus Line
4. Patch Adams
3. Home Alone
2. Across the Universe
1. Green Card
A dubious group. From bottom to top: Big Fish was a sappy coloring book. The Producers was soulless ham (and did you know the original The Producers, which won the Academy Award for Best Original Screenplay, didn't earn a Golden Globe nomination for Best Picture?). Funny Lady is unfunny. Shirley Valentine was widely panned. Love Story is an embarrassing phenomenon from which moviegoing Baby Boomers can never redeem themselves. A Chorus Line is one of the flattest Broadway adaptations ever. Patch Adams is Patch Adams. Home Alone birthed a generation of overly violent kid movies. Across the Universe makes you hate the Beatles. And Green Card, the 1990 Best Picture winner, is the drippiest, most pretentious comedy on the list.
Do The Tourist and Burlesque make the ranks? Of course. The Tourist is a witless caper, so that qualifies it to outplace a middling musical like Funny Lady but not quite a lame slapstick like The Producers. And Burlesque, with its myriad forgettable songs, charisma-free protagonist, and conflict-free stretches of plot, earns Top-3 recognition. I mean, which is worse: Twee Beatles covers or a musical of hook-free cabaret tunes? I'd vote the latter. For now, let's put Burlesque right under Green Card -- if only because it's sort of a Bad Movie We Love, while Green Card is a Bad Movie That is Embarrassing. Sigh. This is a historical day in Hollywood Foreign Oppression.