Late Night Highlights: Jon Stewart and Michelle Williams Promise That Harvey Weinstein Goes Full Frontal in Blue Valentine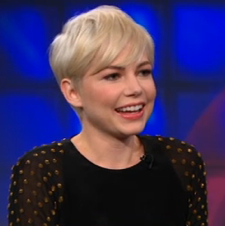 To celebrate Blue Valentine's new R rating, Michelle Williams visited The Daily Show, where Jon Stewart did his best to sell mainstream audiences on the indie flick. That meant advertising Miley Cyrus and a little Harvey Weinstein nudity. Meanwhile, Conan O'Brien debuted his phone sex line, Russell Brand tried to kill Craig Ferguson's robot sidekick, Jeff Bridges christened Jay Leno his "brother in denim" and Steve Martin talked art. Again.
5. Brothers in Denim
Jeff Bridges and Jay Leno agreed they are "brothers in denim" before discussing The Big Lebowski Fest and how Bridges once asked out at girl with two black eyes and a broken nose...before making her his wife.