Of Doyennes and Death Threats: Remembering Elaine Kaufman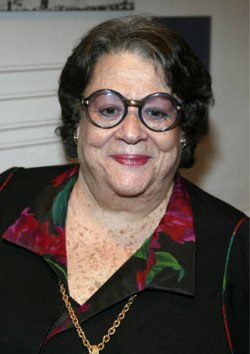 I moved to New York City in 2004 with two goals: first, to attend and complete journalism school; second, to blow my first freelance paycheck on drinks and dinner at Elaine's. Because, you know, that's Where Writers Are (or at least Were) Supposed to Go. I managed the first goal without much difficulty. The second eluded me, alas, after Elaine Kaufman herself threatened to kill me.

First things first: Reflecting now, in the chilly autumn calm following Elaine's death last week at age 81, my fascination with her restaurant was little more substantive than that of the average tourist. I was pretty young and stupid, and she knew it. She had a nose for idiots and did not suffer them graciously, if at all. I would stand easily transfixed at her Second Avenue façade, its proprietress declaimed in gold script that watched over the neighborhood since 1963. It was a brand good enough for Woody Allen to invoke when loosing the amoral savages of Manhattan ("I'm dating a girl who does homework," he said from his assigned table in the dining room in its prime, flinging his arm around Mariel Hemingway), and it possessed a mythology to which literary heroes no less than Nelson Aldrich (he planted the writers' flag at Elaine's in 1965), Norman Mailer (she kicked him out, he protested; she rebuffed him, he begged his way back in), David Halberstam, George Plimpton, Gay Talese, William Styron, Tom Wolfe and a cavalcade of ink-stained others had contributed with their loyal patronage.
Dumb as I was, I did presume upon arriving in the city that there was no real likelihood of adding to that mythology myself. Its annual Oscar party and aging, luminary regulars aside, Elaine's was over. It teemed with slobs and lookie-loos. The veteran bartenders remained hospitable enough, introducing themselves after charging you $7 for a Heineken. It was the least they could do, and they did it well. Elaine herself often oversaw the scene from the end of the bar, and if you were fortunate (or unfortunate, depending on her mood and your demeanor, or your proximity to the forsaken patch of the restaurant commonly known as "Siberia"), she'd pay you a personal visit at your table.
This fantasia of recognition gripped me in the early days. Despite its fading luster, Elaine's remained something more than relevant to me, more than just a goal. The broad strokes of the sign and the yellow awning stretching to the very edge of Second Ave. became a kind of beacon. I didn't really seek the Elaine's experience; I sought its security.
It didn't help that my first apartment in New York was a block-and-a-half away -- on East 87th Street, a pre-war basement job halfway up the hill from Second. I lived there with my wife at the time, overpaying for a journalism program at NYU whose maximum yield by spring 2005 -- the midpoint of my three-semester commitment -- had been a paid internship at the New York Daily News. It was actually a pretty great entry-level gig, writing event listings and the odd red-carpet coverage to the tabloid's Sunday magazine 25Hours ("Because in New York City, 24 is never enough," the tagline screeched). There, I worked beneath a Fleet Street expat named Jayne Gould and her Aussie deputy, Colin Bertram. They had recently brainstormed a feature called "Who the Heck Is...?", a regular bit of fluff profiling some medium-famous New York personality: ersatz starlets, budding socialites, low-level yet consistent public figures... you know.
One day I suggested Elaine Kaufman as a subject. I live right around the corner, I told them; maybe I can just drop in. Jayne approved, though she and Colin doubted a personal visit was necessary when a phone call and some basic research would essentially write the piece themselves. Fair enough, I said, privately concluding that I would not miss an opportunity to consummate at least part of my newcomer's quest in person, as it had to be.
I called the restaurant and spoke with a manager whose name I failed to write down. It turned out to be Diane Becker, Elaine's inveterate second-in-command. We arranged for me to visit on the upcoming Wednesday, March 2; Elaine would be in that afternoon. Unreasonably intense research followed. I bought A.E. Hotchner's book-length, 40th-anniversary love letter Everyone Comes to Elaine's and did some prodigious hanging out in the Daily News clip room. I scoured Lexis-Nexis and read (and re-read) Elaine's loving 2002 profile in Vanity Fair. I staked the restaurant out on Feb. 27 when, as per annual custom, it hosted Entertainment Weekly's Oscar party. When Wednesday came, I was quite possibly the most overprepared reporter to ever practice celebrity journalism.
Stepping into Elaine's that day, I made sure to dress the part -- nothing less than a jacket and tie would do -- and look like I belonged. A male staffer greeted me with gruff bemusement: "Yes?" I introduced myself, and Diane soon emerged from... somewhere. I introduced myself again, and then Elaine soon emerged from... somewhere else. I think I blacked out. The tape from that day evinces how I lobbed more facts than questions, part showing off and part proving Jayne's theorem that a phone call really, really would have done the trick. Listening back today makes for breathtaking humiliation.
Elaine appreciated the attention, though. One look around the colorfully disheveled cavern of her saloon (as Elaine's Times obituary notes, Alan King once described it as "decorated like a stolen car") revealed her fondness for nostalgia and legend. Her famous girth embodied a doyenne, a ruminator, a proto-hoarder and a voracious social animal. She could be vulnerable as well, still dazzled by memories of Marlon Brando and Federico Fellini. "That was as good as it gets," she said of the latter's visit in 1985, when he was honored with a gala tribute at Lincoln Center. "He says," -- here she adopted the maestro's choppy Roman baritone -- "'Where does Woody sit?' I said, 'Over by the door, here.' He said, 'The light's no good.' He wouldn't sit there. Then he said, 'I want some pasta -- not sophisticated.'" She and Diane went on like this for an hour. I loved her almost instantly.
I had one specific assignment from Jayne, however: Determine Elaine's line of succession. She was 76 at the time, as heavy as ever, hobbled in some stage of the emphysema that would eventually kill her, and the subject of observations like that of Hotchner, whom I paraphrased back to her that day: "When you go, Elaine's goes." This was my idea of subtlety at this point of my career (I was barely a journalist, let alone an obituarian), but it did the job. "Oh, Diane," Elaine replied, casually gesturing over her shoulder at her manager behind the bar. "Anyway, that's Hotch's problem."
Overhearing her name, Diane interceded. I repeated Hotchner's sentiment, which she and their unidentified male associate brushed off. "Nobody's going anywhere," he said. Diane echoed him, laughing. "Hotch can't think that anybody's going to live after him." In no uncertain terms, that was that. Awkward silence ensued -- and so did my deadline. I handed Diane my flimsy homemade business card for any follow-ups and split.
Back at the Daily News we closed that week's issue and looked ahead to the March 13 edition, in which Elaine's profile would run. I had grandiose plans to transcend the limitations of the "Who the Heck is...?" feature, streaking flashes of character, persona and that aforementioned Elaine's myth throughout while simultaneously breaking it down for all time. The hoi polloi would have its fun, but posterity would be served. In reality, my copy was carved to barely multisyllabic fundamentals -- the 25Hours house style I would have hammered into me whether I liked it or not. (Surely right now you're wishing I remembered it, but this is going somewhere, I promise.) All that remained before putting the story to bed was to verify Diane Becker's name (and its spelling, just in case) as Elaine's successor in the instance of retirement or worse, a detail freely acknowledged by Elaine herself and not one anybody would refer to as a secret -- even an open one -- around her establishment.
Phoning the restaurant, I reached Diane. We greeted each other, and I thanked her again for the meeting the week before. Then I explained the purpose of my call. She cut me off.
"Well, no," she said. "I don't think you should say that."
"Wait, say what--"
"About Elaine dying. You shouldn't say that."
Nonplussed, I took a breath. "Well, I'm not saying that," I said. "It's just that, you know, if Elaine retires or... It's just what you said: Elaine's isn't going anywhere. It's in good hands."
"No," Diane said. If I barely heard myself in our developing fog of panic, she didn't hear me at all. "It's not nice. You shouldn't put that in."
I continued attempting to talk Diane down, failing with each try. I gave her my work number and asked her to think it over. She never did confirm her name's spelling before hanging up. By then my exchange attracted Jayne's interest, which in turn provoked a flurry of turned heads around our windowless office. What was I to say? That in my fluff-harvesting duties I'd stepped on a landmine? That the most complimentary piece we could offer a modest celebrity faced disownment by its beloved subject? That I'd possibly alienated the one woman capable of legitimizing my burgeoning livelihood? How could I screw this up? I couldn't say. The story was the story, though, and I stuck by it. Wouldn't Elaine, den mother to generations of journalists and other titans of the cognoscenti, have wanted it this way?
Apparently not, because when I answered my phone 10 minutes later, Elaine herself implored from the other end. Well, maybe not implored. With a more focused spirit and elocution that she ever demonstrated in our conversation the week before, Elaine instructed. She told.
"Leave that part out."
"Elaine, listen--"
"I'm not fucking around with you," she growled. "You're a nice kid, but I'll kill you."
"Oh, Elaine, come on--"
"OK?" She hung up.
Again, the staff zeroed in on my desk. "So, uh..." I stammered to nobody in particular. "Elaine Kaufman just threatened to kill me."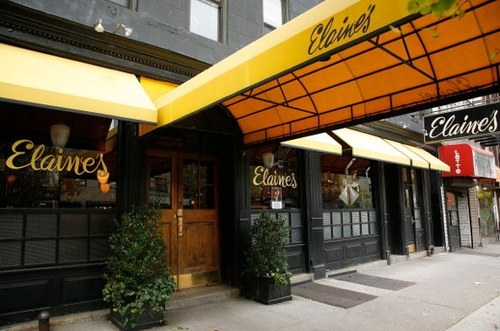 Having had no previous experience with Elaine, her famous temper (she was once photographed hurling a trash can lid at paparazzo Ron Galella and was arrested for assault in 1998 after allegedly slapping an aggrieved customer; the charges were later dropped) or death threats of any kind, I couldn't quite conjure the next step. Jayne could, however, and within 20 minutes we had navigated our ways upstairs to the office of the News's head counsel. The lawyer half-laughed/half-sighed like a emergency-room doctor might at a patient's low fever, documenting a few perfunctory notes and sending us on our way. Still deeply shaken by it all, I jumped when my phone rang again minutes after returning to my desk. "It's Elaine!" the voice croaked. It wasn't -- just Paul, the photo re-toucher across the room who relished the prank potential and may well have sent me to the emergency room for real had I fallen for it any longer than those paralyzing few seconds I did.
We revised the offending passage as so:
The restaurateur even showed us her fiery temper, threatening all manners of retribution when pressed for details about who is next in line to run the famous hangout when she calls it a night. All Kaufman will gruffly say is that Elaine's will always be in good hands no matter what happens. Her fiercely loyal employees -- some of whom have worked with the dining room diva for decades -- share the sentiment that the beloved institution is going anywhere. Only time will tell. Just don't ask her about it next time you make a reservation.
I cringe with you, but our intentions were good. Or at least we had to assume they were better than those of Elaine, whom we could not, in good conscience, allow totally off the hook.
But I had another, potentially graver problem. I've confessed I was young and stupid; add to that myopic and naïve: As I told my colleagues and the lawyer to their disturbed bafflement, the business card I left with Diane contained, in addition to my mobile phone number, my home number and address. In this nascent stage of reporterdom, when the most expected of me each week were a few hundred funny-ish words about this street fair or that rock concert, those disclosures hardly seemed hazardous. And anyway, what if someone wanted to mail me something? (I know: That's what the office is for, idiot.) Even under the circumstances at hand, I didn't really care about getting calls at home; at least I could screen those. But the street address... I can't lie: For days afterward my wife Jennifer and I skulked to and from our basement dwelling like the gopher in Caddyshack, scouting over our shoulders at idle bodies and cars, knowing that if or when Elaine sent someone for me, he would be considerably more competent than that film's inbred groundskeeper Carl.
Our paranoia hit its zenith at around 10 p.m. the night of March 5, a theretofore quiet Saturday hunkered in our railroad redoubt. We were watching television when the buzzer rang. Jennifer and I exchanged the glance you always wish people would exchange in horror movies but never do -- a sudden, shared, intimate awareness of mortality that precedes the terror of actually dying. We couldn't even fool ourselves into believing it was a errant food delivery. We froze, tumbling behind our eyes down the rabbit hole of crisis.
The buzzer rang again. Longer, more insistently. I rose, crossed down the hall and summoned the meager presence of mind to respond with equivalent force, projecting from my diaphragm. "Hello?"
"VanAirsdale."
It was a man's voice -- a low, clipped, anonymous mumble masked by equal parts static and sandpaper. I could not believe this was happening. I forced myself to reckon with it a little too long for the caller's tastes, and he rang again.
"Yes, hello?"
"This VanAirsdale?"
"Who is this?"
"Stu VanAirsdale?"
"Who is this?"
"Open up."
By now Jennifer had risen as well, pretty much resigned to calling 9-1-1. Our buzzer was not retrofitted with the vestibule-cam accompanying many such intercoms in non-doorman buildings, so we'd leave it to the police to identify our visitor if we had to. Meanwhile, my poise left me, and it was all I could do to yelp again, "Who is this?"
Laughter followed -- real laughter, not that of some crazy-eyed goon screwing a silencer into his nine-millimeter. A woman's giggle followed. The man spoke up again. "Stu, it's your aunt and uncle. Let us in, damn it! It's freezing."
Indeed, my aunt and uncle, with their granddaughter, had literally shown up on our doorstep unannounced -- from California. This on the night before my big, bad Elaine Kaufman story hit the street and when we'd contemplated leaving town ourselves to avoid the Sunday blowback. Just as no one in my family had advised me of any imminent visits, I had not debriefed any of them on Elaine's vow or the nauseating fact that she knew where I lived. It was all a fluke -- one huge, pants-shitting coincidence. Even as we welcomed the three of them downstairs, we kept lookout for an imagined thug no doubt tickled to find his victim count had just more than doubled. Maybe he'd get a bonus, I thought, locking the gate behind my aunt, wondering if I should even enlighten (and thus involve) her as to the week's panic. Of course I did.
I never heard from Elaine that weekend -- or ever again, for that matter -- and Diane manages the joint to this day, officially confirming Elaine's passing to the Times. I mournfully blew that first freelance paycheck on dinner and drinks at some other restaurant, chastened, exiled. When I did finally make it into Elaine's on a few nervous occasions, quietly sipping my $7 Heineken like the privilege it was, I imagined how lucky I'd be if Elaine were to materialize and remember me on any terms at all. That didn't happen, either.
Ultimately it didn't need to. Like everyone else who ever encountered Elaine, I was pretty sure I received something from her. (Besides a death threat, that is.) It just didn't arrive in a glass or bottle or on a plate. Honestly, I didn't know what it was until I walked by Elaine's on the night of her death, gazing in at the congregants at her impromptu wake and sidestepping the TV news cameramen on the sidewalk. I stopped for a moment and held my memory close, entitled to so much less. Would I be who I am without that gold script or the yellow awning stretching all the way to Second Ave.? Threats aside, do I not owe Elaine my life? I got the story then, I got the story now -- basically everything I wanted but to thank her in person.
And now she likely has more writers on her hands than she know what to do with. I hope it's not too late for one young, stupid journalist's gratitude to come through: Thanks, Elaine.
[Photos: Getty Images]