James Franco Has 'Studied' Prostitutes, Bottled Own Urine and 5 Other Things Learned From His Actors Studio Grilling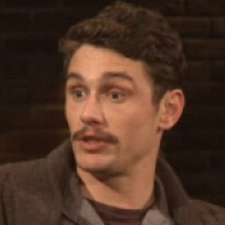 You may have been left weeping on the sidewalk after a Bravo bouncer kept you from James Lipton's intimate Inside the Actors Studio conversation with James Franco -- this year's Oscar co-host and presumed Best Actor nominee -- but after reading an eye witness's careful notes of the interview, it appears that your tears were for naught. Or rather, your tears were for James Franco's bizarre memories of bottling his own urine and watching coked up prostitutes "do business" in seedy apartments. Ahead, details about those incriminating revelations and more.
1. James Franco May Be Suffering From a Battle Injury, Dehydration and Fatigue
"My main takeaway is that James Franco is tireless. He walks with an awkward gait, and constantly drinks coffee, or tea, or whatever was in his mug."
2. James Franco Is a Stoner-ish Jokester
"When asked questions, he pauses for long periods of time, like he either can't remember what the answer is, or he's thinking very hard about what he wants to say. At the beginning of the interview, James Lipton asked him what his parents do for a living and Franco looked into the audience, where his younger brother Dave was sitting, and with a quizzical look on his face, said, 'That's a good question. Dave? What do our parents do?' This set the tone for the evening."
3. Seriously, James Franco Used to Bottle His Own Urine
"Years before he starred in a Gucci fragrance campaign (which he then hilariously mocked for Funny Or Die), he stole cologne and re-bottled it to sell to kids at school. He told Lipton that once, as a prank, he bottled up his own urine and sold that. Lipton quipped, 'Just think how much money someone could get for that on eBay!'"
4. The McDonalds Drive-Thru Was Franco's First Acting Coach
"He worked at a McDonald's drive-thru for a spell, where he practiced accents on patrons and got into fights with Italians in cars."
5. He (Kind of) Earned His Prostitute Stripes
"For the film Sonny, in which he played a prostitute, he went to New Orleans strip clubs and met up with sex workers for research, once even going home with a male prostitute and his John, who was so 'coked up' he didn't notice that Franco sat in the corner and watched as they carried out their transaction."
6. Spiderman Is Enough To Make Any Actor Depressed
"He talked a bit about a dark period he went through, after the Spiderman movies and Tristan + Isolde, when he was truly miserable and hated the work he was doing. He finally realized that the problem was 'coming from him,' not from anyone else, that he must take 'full responsibility for his work.' He signed up for several graduate programs because it was a way for him 'to take other interests seriously.' He said he got his sense of 'self-worth from performances,' and school was a 'private world where accomplishments weren't based on outside sources.'
7. James Franco Does Not Follow His Own Advice
"James Franco advised the young actors in the room: 'don't be in a movie you wouldn't go see." He amended this by telling the story of his joining the cast of Eat, Pray, Love. He said he still hadn't seen the movie, but you don't say no to Julia Roberts."
To hear these revelations yourself, tune into James Franco's edition of Inside the Actors Studio tomorrow.
· James Franco In a Chair On a Stage? [TheRumpus.net]