Movieline Premieres Three New Images From Rabbit Hole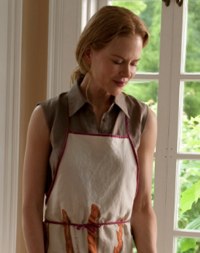 Lionsgate is officially on the awards-season warpath for Rabbit Hole, John Cameron Mitchell's drama featuring Nicole Kidman and Aaron Eckhart as a couple struggling through the aftermath of their young son's death. You've seen the new trailer, the new poster, and now we've got a few new images to help round out the push toward the limited release Dec. 17. Get out your caption hats!
So, a little background: Becca (Kidman) and Howie (Eckhart) are a normal, happy, affluent suburban couple just doing their thing when a tragic accident flings them into the deep end of grief. Becca succumbs to icy numbness, Howie to a sort of matrimonial inertia. Her family -- including helpless mother Nat (Dianne Wiest) and fast-and-loose sister Izzy (Tammy Blanchard) -- is of little comfort despite their best intentions, while Howie's support-group confidant Gaby (Sandra Oh) tempts him with a little Skee-ball, pot and the potential for renewed human connection. If you know what I mean.
It's messy business, for better or worse -- yet thankfully not the standard dead-kid narrative harvested seemingly every year at this time in a panting quest for gold-plated hosannas. Mitchell and Lindsay-Abaire aren't afraid to mine the dark humor of it all, while Kidman, Eckhart and company move sparingly with the histrionics. With this in mind, gaze upon these new stills of Eckhart and Oh, Kidman and Blanchard, and Wiest and... a phone (the best co-star, so low-maintenance) and let your imagination run wild -- and see how right you were when the film commences its run Dec. 17.
[Click for bigger]