Gift Guide: Which Good Boy or Girl Will Get Lee Harvey Oswald's Coffin?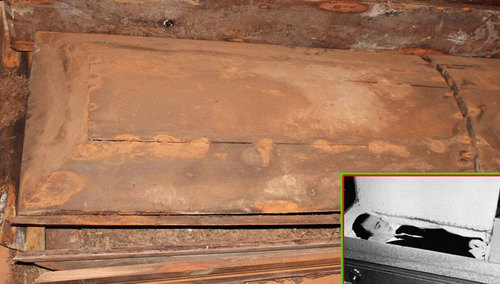 With few exceptions, this year's Movieline Gift Guide has emphasized largesse of the imagination over that of the wallet. But the rare occasion to combine both -- along with a devout interest in only the most macabre U.S. history -- proves even more irresistible. With this in mind, anyone up for buying Lee Harvey Oswald's original casket?
JFK's accused assassin dirtnapped in this simple pine coffin for the better part of 18 years after his own murder. It was replaced in 1981 after Oswald's exhumation, which followed a legal battle between the government and his widow, who sought to disprove conspiracy theories that a Soviet agent was in fact buried in the casket. His identity confirmed, Oswald was reinterred soon afterward, and the disused box wound up back at a Fort Worth funeral home with paperwork, implements and assorted other relics from the turbulent days after Nov. 22, 1963. Of those relics, a Santa Monica-based auctioneer is also offering Oswald's vital statistics form, a first draft of his death certificate (with "Shot by Jack Rubenstein" crossed out), a lot of instruments and equipment used to embalm his body, an original funeral service order (for $710! In 1963 dollars! Yowza.), and an eerily adorable Easter card sent by Oswald to his brother in 1962.
Honestly, I have nowhere to put a coffin right now, so I'll settle for the card (currently going for $1,000) if it's all the same to you. The auction ends Dec. 16. Happy bidding!
$6,727 (do I hear $7,000?) @ Nate D. Sanders [Click photo for bigger image]