Miles Teller on Rabbit Hole, Nicole Kidman and Cutting Footloose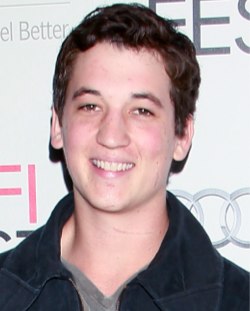 It might seem a bit early to turn the spotlight on 23-year-old Miles Teller given that his feature-film debut, as a tortured teenager in John Cameron Mitchell's Rabbit Hole, won't hit screens until December. The Pennsylvania native and recent L.A. transplant doesn't even have a Wikipedia page yet, for goodness sake! But that'll change as audiences watch him holding his own against Nicole Kidman and Aaron Eckhart in Mitchell's emotionally intense domestic drama, based on David Lindsay-Abaire's Tony-winning play of the same name.
In Rabbit Hole, Teller plays Jason, a teenage driver who accidentally kills the young son of a suburban couple (Nicole Kidman and Aaron Eckhart) and seeks closure by forming a relationship with his victim's mother. On a lighter note, teen fans will see a different side of Teller come 2011 when he plays Willard (AKA "the Chris Penn role") in Craig Brewer's contemporized Footloose remake and shows up in Todd Phillips' ubersecret party comedy, Project X. Those flicks promise to exploit the vague hint of a Shia LaBeouf vibe that Teller gives off in person -- quick on his feet, funny, great sense of timing -- and, coming on the heels of his dramatic turn in Rabbit Hole, promise a versatile career to come.
Movieline talked with Teller about jumping into Rabbit Hole's daunting no-rehearsal film shoot, kicking off his Sunday shoes in Footloose, and where he sees his career going during an appearance at the Savannah Film Festival, where he charmed the crowd before a screening of Rabbit Hole and accepted the fest's prescient Discovery Award. ("It's my first film award," Teller admitted, pausing a beat. "And there's a little pressure with the 'Discovery Award,' because if they're discovering you and nothing happens, it looks bad on them AND you.")
Rabbit Hole is your feature debut. What was it like going into your first film -- a serious, intimate character drama -- playing scenes opposite veterans like Nicole Kidman and Aaron Eckhart under the direction of John Cameron Mitchell, a director known for employing unusual methods with his actors on previous films?
I came in on the first day, and once you see the film there's a scene where I come into the house and give Nicole's character a comic book. In the scene, Aaron gets pretty pissed off at me, gets a little outraged at me, walking into his home. So I'm trying to talk to John: "When I walk into the kitchen, where do you see me standing? When do I move here, when do I do this...?" And he's like, "Shhhh. I don't even want you to tell me what you're going to do. I want you to surprise me." I'm like, OK, it's going to be a surprise to me too because I'm extremely nervous and I'm about to work with an actor who, I've seen most of his movies... That's another thing about being an actor. It's always weird coming in because you're going to work with people that you're a fan of. You're going to end up working with these actors whom you've seen and who are these celebrities, but other than that as an actor watching an actor you just really respect them. They're at the top of their craft. But then you have to act like it's no big deal! It's very unnerving. And John just kind of threw me to the wolves. But for the movie, it worked.
You said earlier that this cast didn't rehearse before shooting so that scenes would unfold naturally. Was that particularly difficult or alienating for you?
I guess John and Nicole, especially Nicole, didn't want me to be too comfortable on the set. I know now because she told me. Because of the nature of our characters and this level of mysticism and intrigue and interest. It plays out, and in the film it actually works. But at the time I thought I was in way over my head.
How do you break the ice with someone like Nicole Kidman when this is your first film gig and so many of your scenes are just you and her, intensely focused on one another?
How we broke the ice was John said "Action" and we did the scene. Really, before that we had met for lunch, maybe a week or two earlier we met for an hour or two, but it was Nicole and the director and the DP at the lunch talking about, you know, Lars von Trier and all of these awesome stories and I was just sitting there, listening. "Don't even worry about me, I'm not talking; I'm just here to listen." But my first conversations with Nicole really happened on screen, so that was an interesting way to get to know somebody, through your characters. And as our characters started building a relationship, that's when Nicole and I started building our relationship.
There's no way to really speed that process up off-screen, is there?
It was really intense for her, the role. The state of mind and the emotional state that she had to get into every day for this character would be hard to get done with a scene and be like, "Hey Miles, what's up?" It wouldn't really be her style. But once I did get to know her, she's beautiful, wonderful, and one of the nicest people I've met. I owe a lot to her because she gave the final thumbs up for me to get this role, so obviously she saw something in me.
Looking to your next big role, what kind of moves do you get to bust in Footloose?
Well, my character is Willard, the Chris Penn character from the original, so they have to teach him how to dance. He goes from not being able to snap on beat to being efficient. Adequate.
Does it take someone who can actually dance in real life to play someone who can't?
I tell you what; it's usually the really intelligent actors who play dumb, because you've got to be smart to play dumb. If you're dumb, it's usually not as interesting as an intelligent person's take on dumb. But it's actually really hard for me not to dance on beat, especially having grown up with music. I think I can dance fairly well, actually, as a human. As myself I think I'm a pretty good dancer, so I had to dumb it down.
So we'll see contemporary styles of dance in Footloose, not the '80s-style Kevin Bacon kicking moves from the original?
It's contemporary. Jamal Sims is the choreographer, and he choreographed the Step Up movies and Hairspray. He choreographed Usher, early on in Usher's career. He brings a freshness and a style to it. But I'd say with these dance numbers -- well, first of all it's not a dance movie. There's dancing in the movie, but it's the acting that leads to the dancing. A lot of the time in dance movies, the acting scenes exist just to get to the dancing. In this movie the dancing kind of naturally, organically comes into the scenes.
The other day I saw Lil' C re-tweet you. You got to know him while working on Footloose, which begs the question: With Lil' C involved, will we see you krump onscreen?
Willard, no -- he couldn't wrap his brain around krumping. He has fun and he finds rhythm, but krumping... No. I don't even know if I could krump. Krumping's hard! That would be an acting challenge.
Legend has it you got the part in the Footloose remake after acting in a high school musical imagining of "Footloose"...
Yeah, but I don't think they saw me [in it] -- they might have seen me do it in high school and then just waited for me to mature to play it in the movie, but yes, the first play I did in high school was Footloose. And I'm playing the same part now that I did then, which was seven years ago.
We're catching you now at the start of your career, so let me ask this: Where do you want your career to go from here, and where do you definitely not want it to go?
I guess I want to keep working with actors who are better than me. I think that's really the only way you learn, by working with people who are better than you, so I want to keep working with talented actors. It doesn't mean they have to be huge names like Nicole Kidman or Aaron Eckhart, but just working with actors who are dedicated and love what they do. Passion reads in film, whether you're making it or just for the camera, and as an audience member I think you can see it. I'm doing a comedy with Footloose - I'm comedic in Footloose; the movie is not a comedy, but I'm the comic relief. A drama with Rabbit Hole... I'd like to keep that balance. I want to surprise people. I don't want to reinvent the wheel every time, but it's exciting for me to do something new and interesting.
And where I don't want it to go is: I don't want to be bored. I hope I don't get to a point where I'm in a project that my heart isn't in, but bottom line, if I'm doing this as a job and this is my paycheck, at some point when things aren't really hitting... I might feel like I'm selling myself short in doing a project, but the bottom line is you might get into those situations. And hopefully I make the best out of it.