Can Conan O'Brien Ever Surpass This Classic Moment?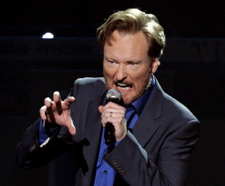 As we all must know by now, Conan's new eponymous talk show debuts tonight on TBS. My hope for the future of O'Brien's third show is that it can somehow return to the tone of his first show, Late Night with Conan O'Brein. Yes, Conan's last month as host of The Tonight Show was brilliant, but that month was fueled by anger -- not a great accelerant for long-term success. What Conan's Tonight Show didn't have was the sense that anything could happen at anytime. What's worse: Conan tried to create the illusion that anything could happen at anytime, even though many of the bits were painfully scripted. It wasn't always this way.
One must only look to May 15, 1997; what appeared to be a fairly blasé interview with Courtney Thorne-Smith became one of the greatest moments in late night history. Thorne-Smith was promoting a movie with Carrot Top called Chairman of the Board; Norm MacDonlad was there. Things got out of hand, quickly. This freewheeling type of moment is what we want to see on Conan.