Exclusive: Glee Remaking The Grinch?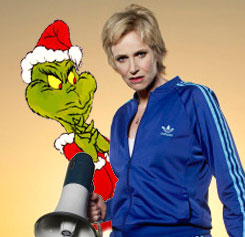 When you hear someone described as being "cuddly as a cactus and as charming as an eel," chances are, you think of the Grinch. And then you may well think, "OMG, that sounds just like Glee-clubber Sue Sylvester, too."
At least the series' creator, Ryan Murphy, seems to have thought so.
I'm hearing the Fox hit's Christmas episode will be titled "Sue the Grinch" and will revolve around the coach's attempts to sabotage the holidays at McKinley High. And yes, the Grinch's iconic theme song will get a Sue-centric remake. (Hey, once Jim Carrey became the live-action Grinch, it was clear nothing was sacred anymore.)