Erin Andrews on Dancing with the Stars' Surprise Elimination and Reuniting with Maks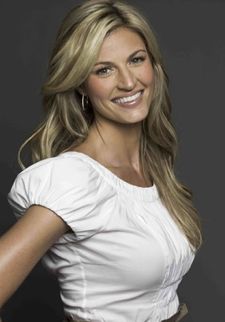 Thank God we have ESPN commentator Erin Andrews on the line to talk about this week's devastating Dancing with the Stars results. She keeps us sane! This week we quiz her on watching the show in person, Brandy's drive to win, the plight of Audrina Patridge, and catching up with Maksim Chmerkovskiy. Lots to discuss, dish, and lament. Let's roll.
OK, Erin, you watched the show in person this week. How was sitting just outside the Celebrity Aquarium?
I had a great time. It was very emotional for me, because that was such a special time for me. Like Margaret Cho said and like I told you before, it was a lot of therapy. Just a great group and family surrounding me, so it was emotional to come back. I was so excited to see everyone, to see Maks and spend time with him, and also to meet Brandy as well.
Yeah, you got to witness the Brandy-Maks dynamic firsthand. What did you think?
I liked it! You know, I thought their dance was great. I thought he kind of stole the show with the leather pants -- no offense to Brandy. I mean, he comes out in those pants and it's like, what else are you supposed to focus on? But I loved meeting her. She was great. You can tell she really, really, really wants to win this thing. She kept saying it over and over. She kept saying, "I really want to win this. I really want to win this." She said she was glad I was came and she appreciated the support. So I enjoyed meeting her.
What did you and Maks talk about?
Um, what did we talk about? Well, we didn't get to say much before the show, just quick hellos and hugging and everything. Then after the show we did the press line and we met up and all went to dinner as a big group. We watched the end of the Monday Night Football and talked a little bit about the season, which was great. With my schedule and his schedule, I hadn't really had a chance to catch up on all the dirt with the cast and catch up with him on his life and his family's too.
Tell us about watching the dancing in person. Did you notice things we have missed at home?
Gosh. I don't know, because the viewers are really smart and in tune with everything. Let's see: I really thought Bristol did a very good job. I was impressed with how poised she was. I thought her technique was a lot better, and I loved that she was in character -- the hair flip, the tongue thing. I actually didn't think in person that Kurt's dance was bad at all. I think he was kind of gypped with the scores. That show is so crazy. Being on the show, you kind of see that. There are just nights you get picked on. I thought that happened with Jennifer; I thought her dance was great. There was a point where she slipped, and I know Carrie Ann said it was a little out of control. Being there in person, I didn't think it was out of control at all. The one part where she slipped and lost it a little bit, she was coming out of a turn, a really fast one. I thought maybe she was just a little dizzy or that the floor was slippery. But I didn't think the whole thing was a mess.
Kurt and Jennifer scored the lowest this week, and that seemed like b.s. to me. I mean, Rick Fox beat Jennifer Grey by four points. What do you make of that?
I just feel like when you do the show, you know there are shows when you'll be picked on. It won't be your night. That was the case for Kurt and Jennifer, and I actually told Kurt at the end of the night -- I'd talked to his wife for a little bit -- I said, "Please don't get frustrated with this. This is how this show goes." One night you're going to be singled out and you'll think you're going to feel like you're going home the next day. And next week you come out and you're praised and you think, "OK, I don't think I did that well." So I just wanted to make Kurt understand, "I think you're doing a fabulous job." I think women at home appreciate the fact that he's never danced in his life and he's just giving it his all. I think he's going to be fine.
In fact, it's probably good to have a bad week. Then people remember to vote for you. Otherwise you end up like Audrina did yesterday!
I'm... stunned. Are you stunned?
Traumatized!
Ha! I was shocked. I was actually flying back from LA, and I hadn't gotten to see the show. When I landed, I read Maks's Twitter, and it said, "America got it wrong." And I was like, "What?!" They were the last people I thought would be eliminated. I was with Tony [Dovolani, Audrina's partner] at dinner the night before. Let me tell you, there are some nights you think you're going home. But that was not the vibe any of us felt about those two.
Ouch, you got to talk to them the night before? Were they at all pessimistic? I mean, they tied for second place this week.
Second place. It was unbelievable. I don't think either one of them had the sense they'd be leaving at all. I think everyone kind of thought, "Ehh, maybe this person will go, that person. Maybe it's time for that person to go." But not those two!
I know you said Bristol did better this week, but how optimistic are you for her future on the show?
I don't know. It's just going to get harder. Obviously the night of the dance marathon that night, I was there. But they're going to have to start doing two dances. It's going to get worse. The competition will get more difficult. I mean, if she can stay in it, and I know she wants to, I'm all for it. Good for her. But it's just going to start getting harder. I don't remember what her criticism was that night, but I thought she did have the technique. Her technique looked great. She's just got to let herself go, emotions-wise. I don't know what dances she has coming up, but it's not going to be any easier. And the judges aren't going to get any easier as well.
Pages: 1 2