REVIEW: Newcomer Jessica Chastain Dazzles in Uneven Jolene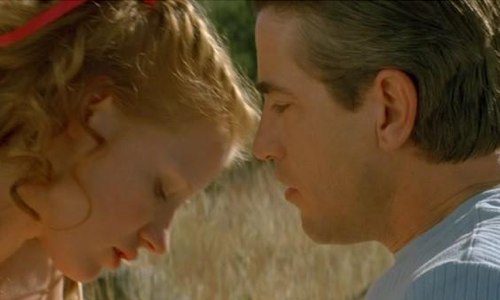 Part mythical creature, part Dolly Parton monolith, the title character of Jolene never emerges from the figurative, or otherwise manages to be fully one thing. Literary heroine might have been a start, considering her origins as the central character in a 2004 E.L. Doctorow story, but Jolene (played here by the soon-to-be ubiquitous Jessica Chastain; the story was adapted for the screen by fellow first-timer Dennis Yares) lacks the dimension and emotional depth required to turn a series of hard luck vignettes into an involving picaresque. The film surrounding her is similarly inconsistent in its vision, direction, and offer of persuasive reasons for tagging along.
"He loved me," Jolene says of her first husband, "and that was a plus. Even if he didn't know much about it." A lot of people love Jolene, or think they do. A teenaged bride with no family to speak of, she and Mickey (Zeb Bewnab) shack up with his Uncle Phil (Dermot Mulroney, loose and lecherous) and Aunt Kay (a radiantly brittle Theresa Russell). The shucksy tone (abetted by Jolene's dulcet but platitudinous narration) and indeterminate setting begin the film on springy footing; even the raucous sexathon she starts up with Uncle Phil after an unceremonious grope in the kitchen feels pretty chipper.
Jolene responds because responding is what Jolene does. As a bit of human tautology, it's more or less watertight; as the basis of a character-driven film it's a starting point, at best. And yet throughout the film, which runs a full two hours, Jolene does little more than take what is offered to her with a grateful acquiescence, sometimes after a mild protest about the wisdom of her decision is lodged and then ignored. Initially this tendency gives her a kind of orphan-eyed allure: she is young and in need of care. She is also a deeply pliable sexual prospect, which is more tricky to pull off onscreen than it is on the page, at least without crossing over into Penthouse Forum fantasy. Rambling Rose pulled it off nicely, and Rambling Rose this is not.
Chastain, an incandescent redhead with a heart-shaped face and round, shining eyes, does more justice to the part than it deserves. Her Jolene has a glimmer of the "angel of sex" corona that Norman Mailer attributed to Marilyn Monroe. Her sensual impact seems part accident, part innocent love of fun in all its forms. Jolene is Chastain's curious feature debut: She will star opposite Brad Pitt and Sean Penn in Tree of Life, Terence Malick's new film; she appears with Al Pacino in his directorial effort Salomaybe; and she stars in John Madden's forthcoming Helen Mirren drama The Debt. Director Dan Ireland (The Whole Wide World) was lucky to find a screen presence capable of at least partially filling in the character's copious blanks, but there is something dejecting in watching Hollywood discover a new actress and get her swinging on a pole and passed around among more established actors as quickly as humanly possible.
Things with Uncle Phil, alas and obviously, don't work out; consigned to a group home for troubled girls, she is quickly taken in by a warden (Frances Fisher) desperate for a lover who won't leave. Soon it's off to Arizona, where a tattoo artist and drug dealer named Coco (Rupert Friend) has similarly cosseting plans. Jolene is an artist with a knack for portraiture, and her suitors treat her as her own work of art, one they might procure and lock up in their room. When things go south with secretive Coco she flees to Vegas and hops on the stripper pole, which is where sketchy real estate magnate Sal (Chazz Palminteri) finds her and immediately promises her the world. Unfortunately, Sal also promised some other people a few things, and eventually they come to collect. By the time Michael Vartan comes around the pike as a toxic, born again scion who sees in Jolene a humble Madonna, the disillusionment routine has shed whatever interest it had.
There is a shabby inattention to detail in the film's editing (much of the coverage feels slapped together, so that angles and expressions mis-match), a distraction that's amplified by each vignette's different aesthetic (and seemingly temporal) setting. Jolene goes from ribbons and braids to roller-queen burger joints to punk rock edge to seedy '80s excess, all in the space of what's supposed to be ten years. What appears to be random shape-shifting (or the product of a supremely bored stylist) might have more clearly reflected the extent to which Jolene is what each of her lovers imagines her to be -- or even the extent to which she clings to that projection herself. Instead it is of a piece with a film too addled by its own identity crisis to deal inventively with that of its inscrutable heroine.