Justin Bieber 3-D Concert Doc Gets First, Hypetastic Teaser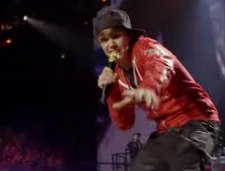 That was fast: It seems like only yesterday we were stockpiling canned goods and bottled water in anticipation of Never Say Never, the 3-D! Documentary! About teen-pop phenom Justin Bieber! And now there's a 20-second teaser making the rounds, meaning that we are about 1/270th closer to the End of Days. Hold me. (Warning: Uncontrollable autoplay video after the jump, so headphones at the ready...)
Favorite moments at a glance:
· Usher saying Bieber essentially passed him by the first time they met -- like that was some kind of accident.
· The big scary reach toward the camera that you just know is going to wet a million multiplex seats when this thing comes out in February.
· Bieber's underwhelming jump shot, which still puts him about fourth on the depth chart of prospective Knicks signings among the free-agent class of 2011.
· That passionate leg-kick-twist-spasm. It's always nice to see somebody -- a young person especially -- so into his work!
· Jaden Smith's cameo, because, like, obviously.
· The end.
· Bieber Fever! See a Sneak of Justin's Never Say Never Trailer [ET via RyanSeacrest.com]