The Office's Craig Robinson on Replacing Steve Carell and Performing at the House of Blues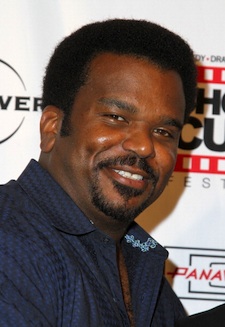 Lately, it seems that whenever music and comedy need to be mingled, Craig Robinson is there. As Daryl on The Office, he frequently tickles the ivories of his keyboard (look for him to accompany Ed Helms during tonight's all-new episode), while in Hot Tub Time Machine, he led a bar sing-along of "Let's Get It Started." This isn't surprising, of course: Robinson is an accomplished musician and was even a music teacher before becoming famous. The Office star and frontman for The Nasty Delicious rang up Movieline on the way home from the gym to discuss where the hit series can go without Steve Carell, why fans should be excited to see his band perform live next month, and just what it's like to work for Tyler Perry.
You're performing at the House of Blues on Nov. 11. How are you feeling about that right now?
The excitement is very, very high. I can think of little else than how I'm going to craft the show. It's very exciting because I'm going to have all my horn players. I've got East Coast horns and West Coast horns -- three on each side. We gonna have some fun. It's going to be a whole musical-comedy extravaganza.
Do you know going in how much comedy you're going to infuse into the show?
It's very organic. I feel out the crowd -- the most important thing is the connection. Yeah, we're going to do some music, but there's a lot of silliness in the interim. It's like if comedy and music got married and had a kid. You would be like, "Wow, the music is crazy!" But then why you laughing?
You sound positively giddy.
This has always been a dream of mine. It's the most fun thing I do. When I'm up on stage, it's like being Superman or somebody. My younger brother is in the band with me -- and all of the other members have grown to be my brothers, too. It's too much fun.
Do you get to play with the rest of The Nasty Delicious very often?
Nowadays, not so much. It's hard to -- with The Office schedule, and movies and such. I figure I can get out once or twice a month, on a Saturday. But with the band is even rarer.
At least your various projects seem willing to offer opportunities for you to show off your musicianship, right?
My character, Nick, in Hot Tub Time Machine -- I don't even remember what his job was, but then some representatives from the movie, including director Steve Pink and John Cusack, came to one of my shows and were like, 'OK, Nick's a musician!' And then on The Office, they're like, 'Oh yeah, Craig plays!' So they'll use me once in a while, like they utilize Ed Helms, or Creed [Bratton] and Brian Baumgartner. I think Brian's had to learn to play the drums for the show. It's all about utilizing that talent. Music has always been a partner in my comedy, but it's completely overwhelming that people want that part of me, too.
I love those scenes on The Office when they have Daryl playing his keyboard.
Yeah, it's a blast. We get to get up and be silly. Usually the words are already created by the writers, so we'll just do the music. Whoever is directing, they get their hands in there, too. It's a fun creative process. I like being one of the people on the music side of it.
I have to ask you about the "Nobody But Me" lip dub from the season premiere.
Which part of the season premiere?
The lip dub.
(Pause) Oh! (Singing) "No, no, no, no, no, no, no, no, no!" You know what? Surprisingly, we only did like five or six takes of that. It didn't take long at all. They rehearsed the hell out of the camera, but it didn't take nearly as long as you would expected. Might have even been less than five takes. It was quick. That's a testament to how the show is run.
That must come from being on the air for such a long time.
I remember I did a guest spot on Friends. The fourth to the last episode in the entire series. And it was such a well-oiled machine. You knew -- you could have blocked out the names on the script and you would have known who was speaking. You know what I mean? The Office kind of reminds me of that. It's not like the first or second season when you do big things that take all day. Everyone is at the top of their game on this show.
Which brings me to the departure of Steve Carell. Do you think The Office can carry on without him in the lead role?
I have no doubt they will be able to carry on. Between [executive producers] Greg Daniels and Paul Lieberstein and the staff they've assembled -- every year they add someone to the staff, they keep it fresh. I'm looking forward to seeing what they do. Don't get me wrong: I'm going to miss Steve. It's just fun being around him. He's a genius. But I think a lot of us -- if not all of us -- have learned a trick or two from Steve. I know I've watched very closely.
So then do you think you can replace Steve Carell? Or, well, do you think Darryl can replace Michael? He does have an office now.
I wouldn't hold my breath on that one. Look, you can't help but kind of picture yourself in that position. What if? All I'll say is that it's fun to dream. It's fun to dream.
Was there a lot of speculation on the set about Steve's departure before he officially announced it?
I was not on set that much last year. I was doing an episode here and an episode there. This year, I'm in all of them. So, no. It was still speculation, but it's never talked about on set. It's not talked about at all, even now.
Before you go, I just wanted to ask you about We the Peeples, which Tyler Perry is producing. How'd you land a role in that film?
I've worked with Tyler on a movie he did called Daddy's Little Girls. I can't say enough good things about him. He was way cool and down to earth. He runs his movies like exactly -- he's just cool. He put me in a scene, and the scene didn't make it into the final cut. But we were having so much fun on the scene that I did -- it was so funny -- that when I got to the set the next day, he had them put me in an outfit and add an additional scene. That's the kind of dude he is. He sees something and he goes with it. That's what makes him great.
You've had some great guest directors on The Office like J.J. Abrams, Harold Ramis and Joss Whedon. Do you think Tyler would ever get behind the camera for an episode?
I'm sure wouldn't have time. But I know he would have fun. (Laughs) That would be a whole other angle on The Office.
Craig Robinson & The Nasty Delicious will appear at the House of Blues on Sunset Blvd. on Nov. 11. Those interested can head here for tickets.