Blue Valentine Slapped With NC-17. Also: Harvey Weinstein is a Genius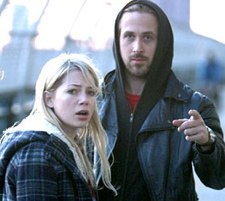 You could tell as far back as its Sundance premiere that the Ryan Gosling/Michelle Williams melodrama Blue Valentine would be rated hard-R for nudity, graphic sexuality, strong language, violence, smoking, alcohol abuse, and whatever else Derek Cianfrance could squeeze into his overwrought emo-fascist twaddle. But damn if I underestimated the ways Harvey Weinstein might anticipate (and/or manipulate) the system for maximum notoriety.
The word came down this week, it appears -- probably not coincidentally the same week the NC-17 rating prohibiting viewing by anyone under 17 celebrated its own ignominious 20th birthday. Prior to this, in the film's coverage from Sundance to Cannes and most recently in Toronto, accolades generally mentioned the unvarnished texture of the Gosling/Williams sex scenes in an adult motel on the night they're attempting to save their marriage. I'd probably use the word "exploitative" and "gratuitous," but regardless, you've seen a hell of a lot more explicit material in R-rated films from Don't Look Now to Weinstein's own The Reader.
So why the NC-17? Do we really have to ask? Harvey Weinstein is the only man who's ever persuaded the MPAA ratings board on an NC-17 appeal -- thanks in part to Kevin Smith, a ratings-board bête noire who nevertheless argued for the "R" he wanted for Zack and Miri Make a Porno in the Weinsteins' last big ratings controversy. He spun off his own new distributor to keep Kids as director Larry Clark intended 15 years ago, when Disney-owned Miramax couldn't release it with the NC-17 rating. After all, a ratings furor is a very specific kind of furor; it didn't work for Zack and Miri, but with two and a half months remaining before Blue Valentine opens -- and its Oscar-season presence fading behind such recent insurgents as True Grit, Made in Dagenham, and even For Colored Girls, it's exactly the kind of visibility boost an embattled Weinstein movie can count on. Which is to say: Cheap, notorious and titillating. Just like Blue Valentine.
Anyway, this is just one of the reasons why I sincerely love Harvey. Expect this to blow over and the movie to live or die on its own in the months ahead, but for now, just tip your cap. He earned it.
· SHOCKER: MPAA Gives Ryan Gosling-Michelle Williams Drama 'Blue Valentine' NC-17 [Deadline]