Ryan Murphy Finally Confirms Who Isn't Playing Kurt's Boyfriend on Glee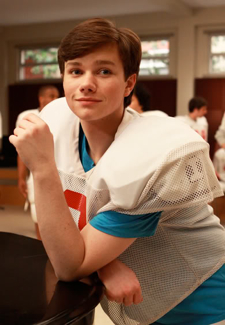 How is it possible that this is still going on? Despite the fact that all signs pointed to new Glee co-star Chord Overstreet playing the part of Kurt's prom king boyfriend, creator Ryan Murphy has finally gone on the record to say he won't be. "It's definitely not Chord," Murphy told E! Online. So does that mean it will be Darren Criss, the web star who was recently cast as gay high school student, Blair? "The new character is certainly an option. I'm not sure how soon I want to [reveal] that information. because it's such a big storyline of the year -- I want there to be some surprises." Uh-huh. Which gets to the problem with this merry-go-round.
As Movieline has previous discussed, Murphy seems to have a major problem keeping his mouth shut when it comes to Glee, despite his many protestations to the contrary. Bear in mind, all this talk about Kurt's boyfriend started with Murphy, when he told anyone who listened that he wanted to write a Prom King & King episode for Kurt and his beau. "I want there to be some surprises"? Too late, Ryan.
In the meantime, we'll never know what caused the switch away from Overstreet playing Kurt's boyfriend. (Remember, Jane Lynch confirmed that Overstreet was playing the part, something we can assume she didn't just pull out of thin air.) Was it because, as Chris Colfer stated, Overstreet was too handsome? Or was it because Murphy is spoiling the show faster than the scripts are being written? Whatever the reason, start thinking of catchy nicknames for Kurt and Blair (Klair?) since it appears they'll be locking lips. Unless, of course, Murphy changes his mind again.
· Ryan Murphy Dishes on 'Glee's' Biggest Guest Star Ever -- and the Answer on Kurt's Boyfriend [E!]