Modern Family Family Member of the Week: 'The Kiss'
Last night's Modern Family was a meditation on boundaries. Actually, is that true? Or do I just mean America's boundaries, you puritanical cads? To be precise, the episode was about Mitchell's public affection phobia, Phil Dunphy's laggard superintendent skills (I called him Schenider throughout the episode), Alex's boy foibles, and Jay's stoicism. And one benign gay kiss that will rock your great-aunt's babushka...So. Effing. Hard. But who reigns as this episode's "Family Member of the Week"? Is Claire Dunphy about to seal back-to-back victories?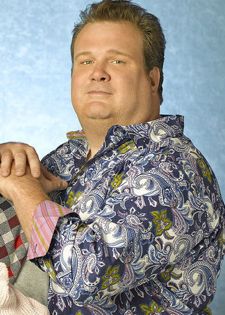 Family Member of the Week: Cameron Tucker
He needed a comeback this week after he failed to place on last week's tally, and Fizbo didn't disappoint. Cameron began the episode by denouncing Mitchell's inability to exchange pecks and hugs in public, and he earned our eternal sympathy with one simple confessional: "I remember once at a New Year's Eve party, stroke of midnight, [Mitchell] high-fived me. Two problems with that: One, gays don't high five. Two, gays don't high five." There's a certain nonthreatening quality to Cameron that is often a little pandering to nervous viewers -- truly, can we imagine him having a serious conversation about, say, internalized homophobia? -- but he so shined when it came to confronting and questioning Mitchell. That gymnastic pratfall in the final scene, when Mitchell ducked away from his kiss and Cameron flew end over end off the sofa? And better yet, the sincerely bereft look on his face when he got up? Hilarious and -- for today's win -- human.
2nd Place: Jay Pritchett
Emmy nominated or not, Ed O'Neill is pitch-perfect as Jay Pritchett, and last night he delivered the two funniest lines in the episode. After Phil tries to explain computering to Jay with an embarrassing, double-talking ditty, the Pritchett patriarch deadpanned, "I'm gonna go get a beer, beer, beer before I punch you in the head, head, head." And at episode's end when Gloria and Claire convince him to kiss his son and cure him of his public affection phobia, he snarled, "Don't be coy. What are you waiting for? A box of chocolates? Let's do this." And did we do this? We did. Silver medal, Dad.
3rd Place: Mitchell Pritchett
Mitchell's problem with PDAs did more to provoke others' convictions than his own, but he gave us some hilarious Commedia dell'Arte mime work when he made angry gestures at Cam behind his back. The sweet final moment with Jay also seals him third prize.
4th Place: Gloria Delgado-Pritchett
Gloria was up to her usual delirium and discombobulation until the final scene when she tore through Jay's aloofness with the elan of a Colombian fencer. (Those exist, I'm sure).
5th Place: Claire Dunphy
Alex came close to stealing the fifth slot from her asthmatic mother, but Claire earned the last spot on our rankings with a line of dialogue that should be affixed to Midwestern refrigerators everywhere -- preferably with a Cathy magnet: "Your kids don't need to know who you were before you had them; they need to know who you wish you were, and try to live up to that person. They're gonna fall short, but better they fall short of the fake you than the real you." Fabulous.
Not listed: Phil Dunphy (ouch, life), Dunphy children, homosexual taboo, Pat Harrington, One Day at a Time, Ms. Romano's radiator