Late Night Highlights: Letterman Explains His Oprah Feud, Chelsea Handler Talks Katy Perry Cleavage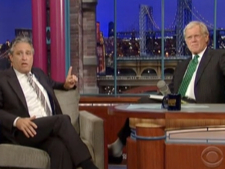 It was a special night for afterhours television. Jon Stewart stopped by the Ed Sullivan Theater and coaxed his late night peer David Letterman into finally explaining why Oprah hated him all of those years. Meanwhile, Chelsea Handler and Stephen Colbert talked about Katy Perry's Sesame Street cleavage and Jimmy Fallon helped Law & Order: SVU fans realize their wet t-shirt fantasy.
4. Digging Taye
During Chelsea Handler's interview with Taye Diggs, the comedian asked the Private Practice star about his thoughts on Katy Perry's Sesame Street cleavage, wife (and Glee guest star) Idina Menzel and...well, then Handler volunteered that she was currently "going through a black phase." Awk.