Buzz Break: Conan Gets Hair-Raising New Logo
· Apologies for that headline, but really: What else to say about the Team Coco-approved new logo for Conan O'Brien's late night show, Conan? Click ahead to see the full-sized image and strap in for more Buzz Break.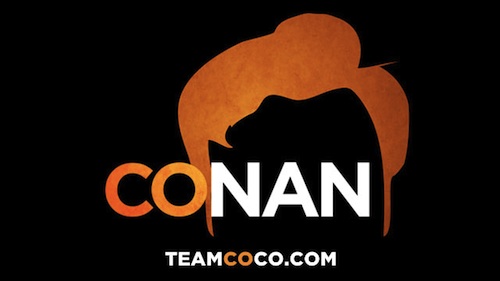 · NBC has picked up My Life as an Experiment, a comedy project produced by Jack Black. It'll be based on A.J. Jacobs' bestselling book about an immersion journalist and how the job affects his home life.
· Fore! Devon James, the porn star in Tiger Woods' harem, is reportedly shopping a sex tape she made of the pair. "The tape is 62 minutes long and 37 minutes of it is us having sex," she said, keeping Tiger's reputation intact.
· Speaking of sex: Nerve asked Kenny Powers Danny McBride to handle a sex advice column. The results? "[N]obody wants to date a f***in' wimp who's crying about his ex-girlfriend." Indeed.
· The Independent Film & Television Alliance has released their list of the 30 most influential indie films from the last 30 years. Don't worry: Twilight only got an honorable mention.
· Michael Cera versus Jesse Eisenberg: Who ya got?