What's On: The Suburban Superhumans of No Ordinary Family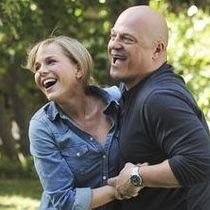 The pilots keep comin' with tonight's premiere of No Ordinary Family on ABC. Can Michael Chiklis charter this strange sci-fi family show and feed off the viewership that Dancing with the Stars will inevitably garner tonight? Elsewhere on the tube: Britney visits Glee, Will Arnett is still Running Wilde, and Ed Asner flies to another continent.
Running Wilde [Fox, 9:30 PM]
In tonight's episode "Into the Wilde," Steve's plans to take Emmy and Puddle on a vacation are ruined. Glad to know this whole "Wilde" pun thing is becoming a fixture. I think.
No Ordinary Family [ABC, 8 PM]
A once-ordinary family's plane crashes in the Amazon, and instead of dying, they're lucky enough to emerge with superpowers. But of course. Michael Chiklis and Julie Benz play parents who enjoy superhuman strength and incredible speed, respectively; their daughter becomes telepathic and their learning-disabled son gains genius capacities. Keep an eye out for this one -- I smell sleeper hit potential.
Glee [Fox 8 PM]
As Schue becomes jealous of Emma's dentist paramour, the music of Britney Spears begins to tear up McKinley High. "Toxic," "Baby... One More Time" and "Me Against the Music" all earn the singalong treatment, and Spears herself appears in a duet with Brittany (Heather Morris).
Up [Starz, 7:20 PM]
In this animated instant classic from Pixar, an elderly man (voiced by Ed Asner) attaches enough helium balloons to his house to fly to the South American wild. The 2009 film earned another Best Animated Film Oscar for Pixar, and it was also nominated for Best Picture. Christopher Plummer and John Ratzenberger (of course) lend voices.