Veteran Tarantino Editor Sally Menke, 56, Found Dead in L.A.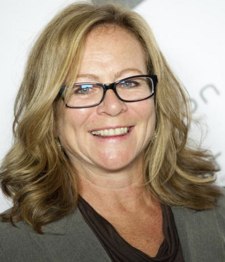 This is horrible: Sally Menke, the veteran film editor who built her reputation over nearly two decades as the ace cutter to Quentin Tarantino's auteurist savant, was found dead this morning near Griffith Park in L.A. She was 56. No cause of death has yet been released; Menke hadn't been seen since going hiking in the area with her dog during Monday's extreme heat.
Menke was awarded a Lifetime Achievement prize last fall at Movieline's Hamilton Behind the Camera Awards, before which she spoke at length about her relationship as Tarantino's go-to editor. She rarely worked on other directors' films since 2000; her final released effort, Michael Lander's recent Peacock, was a rare exception.
Police haven't released many details about Menke's death beyond the recovery of her dog (alive) and their having located her car (locked) in a parking lot in Griffith Park. According to the LAT, Menke's body was discovered at the bottom of a ravine near 5600 block of Green Oak Drive.
Such, such a drag. Condolences to all, and as always, developing...
· Sally Menke, longtime film editor for Quentin Tarantino, found dead near Griffith Park [LAT]