Who is This Nicole Scherzinger Character and Do We Want Her on X Factor?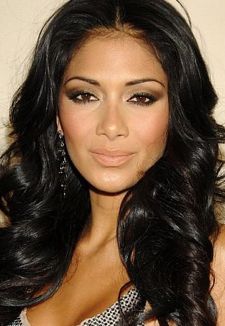 Piers Morgan and Simon Cowell spend their days starting rumors about each other, and today is no exception: Morgan indicated that Cowell's American version of X Factor will, in fact, include Pussycat Doll leader Nicole Scherzinger as a judge. Can we handle this? Let's weigh some pros and cons see if we can "stickwit" Nicole.
We'll start with cons, since those are springing to mind first:
· Nicole Scherzinger is as famous for botching an attempt at a solo career as she is for fronting PCD. If Jennifer Lopez's status as a straggling pop star already seems to jaundice American Idol's tenth season, Nicole Scherzinger's status as a flavorless and waning pop starlet threatens to cheapen X Factor.
· As a judge on the British X Factor, Scherzinger has already proven that she can be a producer stooge. Case in point: She let through talentless UK call girl Chloe Heald, who sang Shakira's "Underneath Your Clothes" with the pitch precision of a sputtering dial-up modem.
· She's not Paula Abdul. We all know we're waiting for her return.
· Does Scherzinger have the empathy needed to be an X Factor mentor? The relationships between the judges and contestants make the show different from Idol, and if Scherzinger can only give us polite soundbites, her airtime with the contestants will be flatter than an Antonella Barba high note.
· She doesn't have chemistry with Simon. That's the undeniable albatross around her bronzer-than-bronze neck.
Now for the pros:
· Scherzinger's winning stint on Dancing with the Stars proved one thing: The girl is talented. As Carrie Ann Inaba noted after one of Scherzinger's performances, her skill level matched and sometimes outshone her professional partner Derek Hough's. Perhaps it takes a showstopper to know a showstopper. I kind of hope it does.
· Viewers shunned Kara DioGuardi for her long-winded critiques on Idol (though I didn't), and it seems like Nicole Scherzinger will at least keep her comments brief. That's the sole reason Randy Jackson is tolerable to Idol fanatics.
· She won't try to win us over with jokes about unripe bananas. Click to 2:38. This may be Nicole's strongest asset yet.
Did I miss any others? Enlighten me in the comments.