Katy Perry To Ruin The Simpsons In December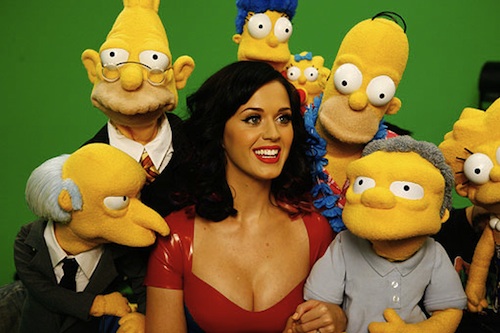 Oh, Simpsons. My first clue should have been when you set your iconic opening to the sounds of Ke[dollar sign]ha's execrable song "Tik Tok." And now comes word that Katy Perry will guest star on a future episode? Somewhere, back in 1989, my elementary school heart is breaking.
EW is reporting that not only will the chesty chanteuse guest in a Christmas-themed episode, she'll actually be appearing a live-action segment with the Springfieldians present in puppet form. Plus, she'll be Moe's girlfriend! Which is funny! Because Moe is ugly and Katy Perry has large breasts which she often displays prominently!
Why puppets? Why Katy Perry? Why, sweet merciful God, why? I grimly await the episode where Marge becomes a robot.
· Katy Perry to Guest Star on The Simpsons [EW]