Yes, Larry King Wants to Be Your Next Saturday Night Live Host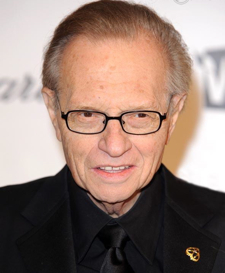 Saturday Night Live has been parodying Larry King poorly for years and now the 76-year-old television personality wants to get in on the action by hijacking Studio 8H for a night. In fact, King so believes that he can be the next Betty White that he skipped over the grassroots Facebook campaign and marched down to Rockefeller Center to audition in person.
So reports the New York Post, who alleges that King "gushed to show producers about how badly he wants to be on the show" in between interviews with cast members and Lorne Michaels this week for his CNN program. After the groveling, King "begged" Fred Armisen to do his patented Larry King impression (see below) before "giving tips on the spoofer's impressions of himself."
See -- he's enthusiastic, willing to poke fun at himself and he has perfected one killer Lady Gaga impression. Come on Lorne Michaels, Larry cannot be any worse than January Jones.
· Larry King's SNL bid [NYP/Page Six]