Project Runway Recap: High-End Hijinx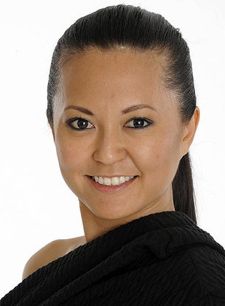 Today's Project Runway recap will be abbreviated because, well, the drama was abbreviated. Ivy stayed tame, Gretchen didn't have an Antigone-like downfall, and Christopher didn't strip in the middle of the workroom. Come on, guys. In the meantime, we've got a bunch of "high-end" dresses and some serious Michael Kors stank to discuss.
Heidi opens the episode with her favorite two sentences: "Tim will tell you about your next challenge. Byeeeeee." This woman has been nominated for three Emmys. You'd think she'd have more responsibility than telling contestants to leave the room. At any rate, all the designers -- including haughty Gretchen, hawt-hawt-hawt Christopher, and hawkeyed Ivy -- pile on out to hear Tim explain the challenge.
Oh, sh*t. There's Tim in his first communion suit, and he's standing with Collier Strong, the L'Oreal Paris guy who talks about makeup for an hour. This is never a treat.
"Designers!" says Tim, his diplomatic eyebrows both arched. "Collier Strong is here! He wasn't exactly invited, but hey. Love him. Someone must've left the back door open. Your challenge: Design a high-end look that will be featured in a L'Oreal campaign. Use these makeup motifs to inspire you. The winner will get an extra $20,000. I know, isn't Collier the greatest? Totally the tagalong friend who pays for everyone's drinks, and suddenly you're thankful he's there."
Tim also explains that the designers have, like, a million years to complete this challenge. Everyone high-fives, strips, and cries like there won't be a tragic twist in the middle of the day two. Idiots.
The designers pick motifs for their look: Christopher and Valerie have to make a "crystal"-themed look, Gretchen is "ready to challenge herself" and goes with "velvet," and Mondo and Ivy both choose "bright." And I think Andy picks "matte." The others aren't important since we don't even hear from them for the rest of the episode. Spoiler, I mean.
After Gretchen pretends that Michael C. is obsessed with and stealing all of her favorite colors, everyone picks fabrics you expect: Ivy goes for bright turquoise (very Chloe Dao), Mondo is fixated on kaleidoscopes, so he picks all sorts of carnival stripes, and Andy selects sheeny Lady Gaga leather in black and red. Before we can cough at the predictability that's filling up the room like carbon monoxide, Tim Gunn is back in the workroom to unleash a verbal fart of terror.
"ALSO!" Tim yells, apropos of nothing, "You have to make ANOTHER LOOK. Another look. I can't believe it either! I can't believe it! I can't believe it." He starts walking away and muttering "I can't believe it" to no one in particular. He also said something about making it "ready-to-wear," which is a hilarious notion when the designers have six minutes left at this point.
Valerie runs to the bathroom in tears, ready to end it all with some Ophelia insanity in the toilet. Ivy rushes to comfort her because the cameras are over there. Oh, the humanity! Let's move to the final runway where everyone has to shut up for a little while.
Heidi Klum, Michael Kors, Nina Garcia, and guest judge (and Michelle Obama clothier) Naeem Kahn are excited to ruin some lives. Mondo, who was just wearing yellow galoshes and girly jean shorts like the Harajuku gnome he is, turns out a stiff, massive "haute couture" dress with a yellow-striped tail and blue- and red-striped appendage flaps. There's a twisted little hat too. Altogether, it's like a gay Lady Gaga version of the Megazord from Mighty Morphin' Power Rangers. This rigid-ass thing could fight crime in Angel Falls; to boot, Mondo's model was packing mastodon fierceness. His ready-to-wear look is a black-and-white color-blocked cocktail dress straight out of Mila Hermanovski's handbook. Nice.
Andy turns out what can only be described as (sorry, this is lazy of me) Lady Gaga stagewear -- leather clam-shell shoulders and bodice with blood-red embellishment. His ready-to-wear is a precious little leather cocktail number with silvery side cutouts. You pass, mohawk man.
OK, the judges will soon shower praise on Gretchen's loosey-goosey -- but belted! Of course! -- "high-end" gown, but I'm telling you it looks like something Ingrid Bergman wears to win an Oscar in the '70s. It should be titled Suicide on the Orient Express, for real. Smocky and baggy and over-designed in back. Don't worry, her highfalutin ass doesn't win; after the judges isolate the top three from the bottom three, Mondo takes the crown for the second challenge in a row. He is one elated homosexual munchkin king, and we are all delighted plebeians dancing on his rainbow-dappled fiefdom of laughter.
But now for losers: Michael Kors thinks Ivy's turquoise-and-blue looks smack of "bridesmaid" and "nurses," which is not ferocious. Nina says the gowns make the models look ancient, and guest-judge Naeem Kahn says, "It's overkill from the color to technique to layout of bias strips." You might actually call that a qualified critique. Who is this strange man?
Valerie and Michael C. also biff; Valerie sends down two discordant looks with little "design" except for a strange metallic shoulder detail on the high-end dress. Michael C. earns a few scoffs with his giant maroon bolts of fabric that are masquerading as dresses. Eventually, Ivy and Valerie earn bottom-two status. But turquoise eyesores are worse than colorless non-designs, so say the judges, and Ivy goes home. Still, as Kors put it, "It was an unbelievably tight race for hideous." And hopefully that hideousness translates into bitchy fights next episode. Stop getting along, everyone. You know you don't want to.