Project Runway Castoff Ivy Higa Dishes on Michael C., Disses Gretchen, and Picks Her Favorite Designer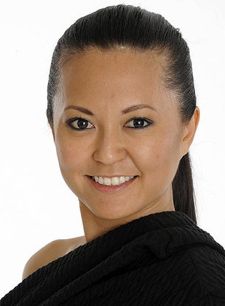 Ivy Higa was one of Project Runway's most confident season-eight contestants. The 30-year-old Hawaiian native and current New Yorker also had her share of controversial moments: harsh barbs towards her fellow designers, erratic runway behavior, and even a fainting spell. Higa opened up to Movieline this morning about being seen as a "bitch," patching wounds with Michael C., and the problem with Gretchen.
Very early in the season, you fainted on your way back to the apartments. What happened there? Was it just stress-related?
I think it was just that -- you know, it's so funny, Val is so funny -- Valerie thought I didn't eat the entire day, Valerie and Gretchen did. But actually, I didn't drink enough water that day, and it was 103 degrees in New York. They actually have to shut down the air conditioning when they do filming because the microphones are so sensitive. I just didn't drink enough water that day, yeah. It was crazy. So when I went back after we got done working that day, coming off the elevator I remember feeling nauseous and completely dizzy, and then I completely blacked out. I don't remember too much of what happened until I was in the ER room.
In the challenge where you showcased your designs in an exhibition, you accused Michael C. of telling the patrons you were "the bitch" on the show. The editing didn't show any evidence that he'd said that -- like you'd made it up. Can you explain why you guessed that he was talking behind your back?
I know! Like I was making that up! It was so funny that they didn't get that on camera because people actually came up to me -- they had 100 people who came to the showing -- and I can't understand who would make it up to tell me that. You know what I mean? I'd went to Valerie, and Valerie said she'd heard the same thing and they heard that on camera. I didn't understand why people would think I made it up, though it did look like it just came out of nowhere. A few people attending the event came up to me and said, "I hear you're the bitch of the show and I hear we're not supposed to vote for you -- or we were told not to vote for you." It completely caught me off-guard. I thought we were there to showcase our work. Yeah, it kind of got me emotional and heated.
Once when Michael C. won a challenge, he came backstage, announced that he'd won, and you muttered, "Of course you did" to him. Can you explain how you came to be that hostile with him?
It's just funny too because the cameras aren't always going to be on, and they're not going to catch everything. It's funny because Michael and I actually are friends now. But you're put into a really messed-up situation and you're under a lot of stress. We all thought that Mondo should've won that challenge. It's nothing against Michael on a personal level, but what you don't see is that Michael antagonized a lot of us while the cameras were off. So it led us to having a bad taste in our mouths. But I told him also it wasn't fair for all of us to gang up on him and dislike him. It's all the past now, we're moving forward. He's a very good guy and very talented.
You were eliminated last night, but you ranked in the Top 2 for the previous challenge. Did it disappoint you to go home after that triumph?
Oh, no! I was ready. In retrospect I really believe it was my time to go. I think I needed to just show Nina that I am a true designer because she'd heard I was a great seamstress, but she didn't know if I was a great designer. So on the last challenge, I presented myself as a great designer. That in itself -- I did what I needed to do for this show.
Who do you want to win?
I always thought Mondo should've won everything. Between Mondo and Andy, they're both so talented and such visionaries. Great people and very, very talented. The way they put fabric together, they're just amazing.
You know, the eliminated designers always tell me they want Mondo or Andy to win. Why never Gretchen? I hear she comes off nicer in person.
Who said she's a nice person? [Laughs.] I'm kidding. I'm also an honest and direct person, and it gets misconstrued as being a bitch. I'll own that. But I'm very genuine and I can only speak for myself. What I would say to someone's face is what I'd say to someone not in front of me -- and I know there are people who've said that Gretchen is... otherwise. I don't know; I think Gretchen is talented, but I think that Andy and Mondo are far better designers than she is.