Movieline Grades Glee's Leaked Britney Spears Tracks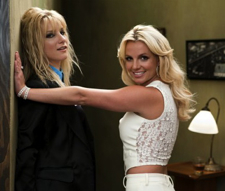 Movieline understands your ugly Glee addiction and knows that a hit of the New Directions would really brighten up quittin' time -- not to mention, take care of those withdrawal symptoms for a few hours. So below, find the leaked Britney Spears tracks from this week's "Britney/Brittany" episode and the grades they earned from Movieline. And to answer all of your questions, yes: Schue does get down with his "Toxic" self.
"Toxic" (New Directions and Schue)
This is clearly the best song from Glee's Britney Spears chapter and deserving of a spot on your treadmill playlist. That being said, this faithful Gleek was a little uncomfortable listening to Matthew Morrison cut in for an oddly sensual vocal run mid-chorus.
GRADE: B+