3 Unsettling Makeovers on 30 Rock's Season Premiere
No Tom Jones, no! We were subjected to three strange physical transformations on last night's satisfactory 30 Rock premiere, "The Fabian Strategy" -- and one metamorphosis trumped the others in sheer hirsute horror. Season five, here we go.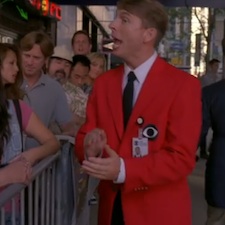 1. Kenneth's Bordeaux-red CBS blazer
Though Kenneth quit NBC at the end of last season, he made grisly appearances in Tracy's sad hallucinations last night (including one where a mournful Mr. Jordan mistook a perky new page for Kenneth). But the greatest terror was Kenneth's real-life wardrobe: a deep red blazer he wore as part of his new job at -- shriek it with me -- CBS. Our Georgian sweetheart looks ghastly in that sanguine suit, and we hope he sheds that skin for his navy vestments of yore soon. I can wait a little longer if he continues to make hilarious asides about The Mentalist.
Jenna looked peroxide blonde and positively bronze at the top of the episode, fresh off a summer vacation and the delightful realization that she's contractually bound to be an executive producer on TGS with Tracy Jordan this season (as her pink t-shirt said in glitter: "Business Slut"). But what of this umber-er Jenna -- or should we say, JennaWOWW? I think she looked like Sheryl Crow or Liz Phair when they began to release those scary Top-40 pop singles. I suppose we can anticipate Jenna's rendition of "Soak Up the Sun" soon, perhaps in time for the summer solstice episode.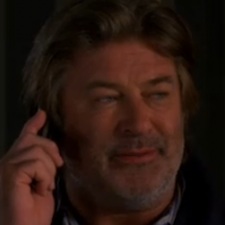 3. Jack Donaghy's Terrifying Beard
Jack ditched his frosty new beard five minutes into the episode, but man, what a slow march to Hades those five minutes were. He didn't look like Alec Baldwin -- he looked like one of the "wrong" Baldwins. Or Jimmy Johnson from Survivor. Or a claymation sea lion. Anything but the GIllette-smooth honcho who once knocked Steve Maddens with Condoleezza Rice. Anyway, breathe out: It's gone now. And another season of clean, five-blade wit can commence.