What's On: Please Welcome 30 Rock Executive Producer Jenna Maroney!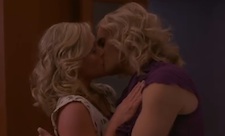 30 Rock returns tonight with enough Tina Fey/pilot Matt Damon romance to ignite a Mile High Club fad across this great nation -- but will Jane Krakowski (as the divine and screwy Jenna Maroney) steal the show as TGS with Tracy Jordan's new executive producer? Also on tonight: My Generation premieres and Project Runway gets heavy.
30 Rock [NBC, 8:30 PM]
While Tracy (Tracy Morgan) copes with Kenneth's (Jack McBrayer) firing, Jack Donaghy (Alec Baldwin) gets Liz Lemon (Tina Fey) to act more aloof in her quest to win Carol's (Matt Damon) heart. Jenna (Jane Krakowski) begins producing the show and helpfully ends this paragraph's long string of parentheticals. Stick around an hour later for the premiere of (grumble) Outsourced. Whoops, that was another parenthetical.
My Generation [ABC, 8 PM]
This scripted documentary-style series (your memory is avenged, Once and Again!) follows ten members of the same high school class ten years after their graduation. In the series premiere, we find out that surfer Steve conceived a child on prom night. (Read Movieline's patented FAQ about the pilot here.) Look forward to new Grey's Anatomy and Private Practice afterward.
Project Runway [Lifetime, 9 PM]
The designers compete for one of the best rewards in the series' history -- and all they have to do is create a "high-end" look. Should be 90 minutes of fabulosity. Tomorrow we'll have our usual interview with the eliminated contestant and our recap of all the horrible things Michael Kors said.
Airplane II: The Sequel [AMC, 10 PM]
Our own Mike Ryan may yearn for Airplane's dogged pilot Ted Striker to reemerge on the big screen, but this oft-forgotten sequel may be the closest thing we ever get to an "update" on Robert Hays's best character. In this wack-ass follow-up to the blockbuster original, Striker helps pilot a doomed spaceship. Look for $#*! My Dad Says star William Shatner in a dramatic, hilarious supporting role.