Today in Things That Will Never Happen: Mel Gibson on Mad Men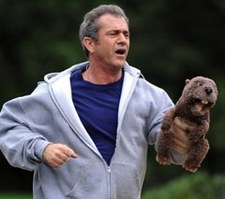 You really never do know what incredible hilarity each refresh of the Google Reader can bring. Case in point, this headline, courtesy of Cinematical: "Mel Gibson's On-Screen Comeback to Begin with 'Mad Men'?" Um, no? Is that the right answer?
Probably. (I'll assume you already have a grain of salt out for this one.) According to gossip queen Liz Smith, Gibson has already met with Mad Men creator Matthew Weiner about appearing on season five of the Emmy winning series. Uh-huh. But what about the fact that Mel Gibson is...y'know, Mel Gibson? Writes Smith:
Weiner - who is Jewish and can overlook Mel's infamous drunk rant of several years ago - told a pal recently that he sees a lot of dramatic potential pitting Mel against Don Draper.
Well then! Apparently Big Bad Mel is a "huge fan" of the series. Wait, Mel Gibson likes a series that routinely features sexism, alcoholism, anti-Semitism and racism? You don't say...
· Liz Smith: Mel Gibson 'Madder' Than Expected [wOw via Cinematical]