The Trailer for Oscar Frontrunner The King's Speech Doesn't Stutter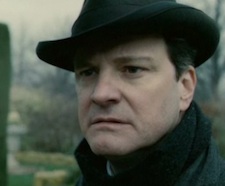 The last two films to win the Audience Award at the Toronto International Film Festival were Precious and Slumdog Millionaire, so do your best to feign surprise when 2010 winner The King's Speech winds up on the list of Best Picture nominees next year. If recent history still has you unconvinced of The King's Speech Oscar bona fides, however, the first trailer for the film will do its best to change your mind.
Colin Firth stars as King George VI, the reluctant leader of England on the eve of World War II. Why is he so reluctant, other than that he's played by the master of acting reluctant, Firth? Because he st-st-st-stutters. Enter Geoffrey Rush as his speech coach, an unorthodox teacher who shows Firth's King George VI that his voice is strong enough to lead a nation. Fire up the inspirational music!
It's all very moving and very heartwarming, if...expected. Like the crowd pleasing trailer for David O. Russell's heretofore unseen The Fighter, The King's Speech isn't just Oscar bait, but audience bait, too. (This could be a sleeper hit for The Weinstein Company.) Firth, Rush and director Tom Hopper should probably start scheduling their tuxedo fittings now.
VERDICT: Jolly good.