REVIEW: Rodrigo Cortés' Buried Amounts to a Pile of Cheap Manipulation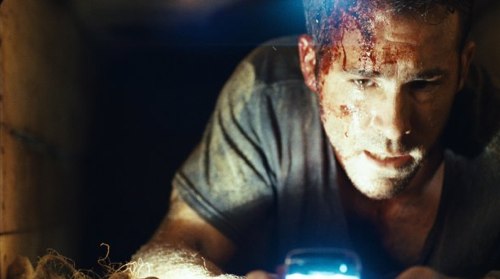 Rodrigo Cortés' Buried is a Twilight Zone episode for Mother Jones subscribers. Ryan Reynolds plays Paul Conroy, a U.S. contractor -- a truck driver working in Iraq -- who, at the beginning of the movie, at the end, and for every minute in between, is trapped in a plain wooden coffin with nothing but a cellphone, a lighter, a glow stick and a few other accoutrements. His convoy was attacked by a group of Iraqis; he was knocked out, awakening to find himself buried alive in this little pine box. Because time is of the essence and his air supply is running out, he frantically starts dialing numbers on his little cellphone lifeline -- 911, the State Department, his wife -- desperate to reach someone who can help.
Will Paul get out alive? The movie's phony suspense hinges on that single question, but along the way it pretends to address other important issues, such as how little the lives of American civilians working in dangerous overseas locales mean to the U.S. government, or to those people's employers, or to anyone, really. The only people who seem to want to see Paul get out of that box are himself, his family and us; the obvious aims of the director and screenwriter (the script is by Chris Sparling) are actually better served if he dies.
Your enjoyment -- if that's the right word -- of Buried will hinge on two things: Your ability to tolerate situations in which characters are confined to very tight spaces, and your willingness to be emotionally manipulated in the cheapest way imaginable. If you truly do not want to know whether our poor, pickled hero survives his ordeal, you should stop reading now -- and I mean right now -- because it's impossible to address the picture's "One minute there's hope; the next, darkness!" shilly-shallying without giving at least some of the game away.
The first section of Buried plays, rather effectively, as a black comedy. We first join Paul, at the very beginning of his very bad day, as he's venting his frustration at being locked in a buried box. He moans, groans and yells; he gulps air as if he can't take enough of it in; he flicks his lighter to survey the cramped quarters around him. After he discovers the existence of that cellphone, and realizes he can actually reach it, he tries to use old-fashioned common sense to figure out whom to call. Confronted with a screen's worth of lettering in Arabic, he makes a stab at calling what he thinks might be a helpful number. A not-too-helpful-sounding woman answers the phone and inquires as to what the problem might be. "I'm buried alive in a box in Iraq," Paul explains to her, more or less, which she follows with some deeply annoying questions about how he got there. ("Are you in a funeral home?" she asks, daftly.) Moments later, it's revealed that he's reached a 911 dispatcher in Ohio, and the operator's "Sorry, sir, there's really not much I can do for you" response plays like an outlandish, grim joke.
Pages: 1 2