Late Night Highlights: Craig Ferguson Channels Michael Caine in Space, Josh Brolin Debuts His Malkovich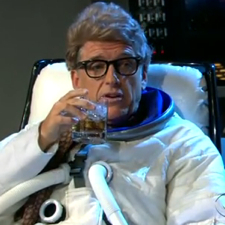 Most late night audiences may have tuned into CBS last night to catch part two of David Letterman's ongoing saga with Joaquin Phoenix but if they stuck around for The Late Late Show, they were in for a special treat: Craig Ferguson debuted a Saturday Night Live-ready "Michael Caine in Space" sketch with the help of the Big Bang Theory cast. Elsewhere, Josh Brolin showed off a spot-on John Malkovich impression, Guillermo del Toro matched wits with Stephen Colbert and Jon Stewart reunited with a Death to Smoochy cast member.
4. An Oscar Nominee's Malkovich Impression
On last night's Late Night, Wall Street 2 star Josh Brolin debuted his impeccable John Malkovich impression.