Finally: Roman Polanski and Matt Dillon to Make Beautiful Art Together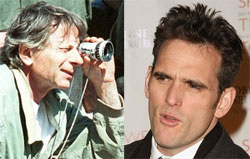 Word from England this morning reports that Jodie Foster and Kate Winslet will play the wives of Christoph Waltz and Matt Dillon's characters in the film version of the play God of Carnage, directed by Roman Polanski. I know, I know -- I needed the double-take myself.
In fairness, whoever picks up the independently financed adaptation of Yazmina Reza's Tony-winner will be able to push "Academy Award nominee Matt Dillon" in the trailer. But one can only imagine the early talks Polanski and DIllon must have had:
"You know Matt, Greg Kinnear's really interested in this role..."
"I take dumps bigger than Greg Kinnear."
"How do you think you'd match up with Kate Winslet?"
"Oh, man, love her on that show."
"What show?"
"The schizophrenic one. Tara? Something Tara."
"That's Toni Collette."
"Whoa. Who was the one in Titanic?"
"Can you work in Switzerland if necessary?"
"As long as it doesn't mess up my obligations for Armored."
"You're hired."
Anyway, this is happening.
· Jodie Foster and Kate Winslet To Star In Roman Polanski's God Of Carnage [Deadline]