Be Tyler Perry's Next Star, Craigslist-Style!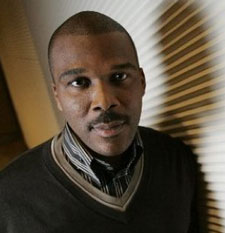 Big news from Craigslist! An eagle-eyed reader points out that if you're between the ages of 15-65, are based in New York, and are "ABEL [sic] TO TAKE DIRECTION," then something known only as "Tyler Perry's new project" is currently holding auditions. I am so going out for this -- anything to be "White Parking Cop" or "Man Whose Convertible Madea Demolishes." And if it's fake, you'll be able to hear my heart break all the way down at Perry's private island. Read on for the details, and good luck!
TYLER PERRY'S NEW PROJECT (AUDITIONING NOW) (Midtown)
PLEASE NOTE THIS IS AN OPEN CASTING CALL
WE ARE SEEKING PEOPLE FOR SMALL SPEAKING ROLES AND EXTRA WORK (FOR VARIOUS SCENES)
YOU MUST BE ABEL TO TAKE DIRECTION, YOU MUST BE WILLING TO TRAVEL, PLEASE DRESS UPSCALE CASUAL
AUDITION DATES ARE AS FOLLOWS THURSDAY SEPT.23RD FROM 1-6PM, FRIDAY SEPT.24TH FROM 1-6 PM IN NY AND MONDAY SEPT. 27TH FROM 1-6PM
THE ADDRESS IS 1674 BROADWAY NYC CORNER OF W52ST AND BROADWAY THE 8TH FLOOR
ALL TYPES MAY APPLY AGES 15-65
WILL WE PROVIDE A SCRIPT FOR YOU
PLEASE ARRIVE CAMERA READY, PLEASE DO NOT BRING ANY FOOD OR DRINKS OF ANY KIND TO THE AUDITION, PLEASE DO NOT BRING ANYONE WITH YOU IF THEY ARE NOT
AUDITIONING, PLEASE BRING A HEADSHOT AND RESUME ECT. IF YOU HAVE ONE.... GOOD LUCK
Today is the first day of the rest of your life!
· TYLER PERRY'S NEW PROJECT [Craigslist]