What's On: Group Hug, Modern Family's Back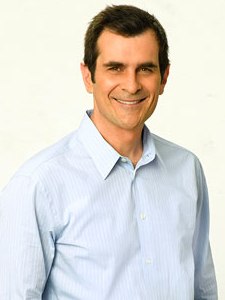 Your Emmy champ Modern Family is back with another season of yuks, mockumentary confessionals, and an award-repellent lead performance from the fantastic Ed O'Neill. In tonight's episode, the Dunphys say goodbye to an old friend. Elsewhere on the tube, Jim Belushi and Boris Kodjoe woo us with pilot episodes and Mel Gibson shows us his reign of terror's beginnings.
Modern Family [ABC, 9 PM]
Phil begrudgingly concedes to Claire and gives up the Dunphy station wagon. Meanwhile, Manny asks a girl on a study date and Cameron invites Jay over to help with a project for Lily. This is the night's guaranteed good time: If you click on ABC a half-hour early you'll be rewarded with the so-so pilot of Better With You, and if you keep the channel on after Modern Family, you win the season premiere of the underrated Cougar Town with guest-star Jen Aniston.
Undercovers [NBC, 8 PM]
A pair of married former spies (Boris Kodjoe and Gugu Mbatha-Raw) find themselves back on the job in order to track down a former agent. The assignment gets the two all hot for each other again, and they may make love in the middle of a gunfight -- let's be on the lookout for those shenanigans.
The Defenders [CBS, 9 PM]
An hour after you finish watching Survivor: Nicaragua and start eagerly awaiting my recap, check out this Jim Belushi-Jerry O'Connell cop drama set in Las Vegas. Their firm employs a former exotic dancer who represents a teen accused of kidnapping. What do these three hard-bitten lawpeople have in common? Charisma. That is what.
Mad Max Beyond Thunderdome [AMC, 8 PM]
Your intrepid hero Max (played by budding arsonist and BJ aficionado Mel Gibson) runs into a wicked sorceress (Tina Turner) and partakes in a duel to the death. This film is also known as Prelude to Oksana. At least to me.